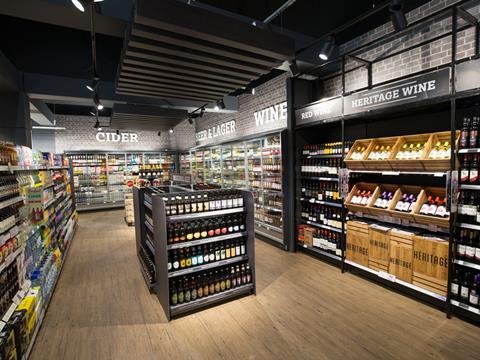 Nisa has delivered strong improvements in EBITDA and a return to pre-tax profit, but a fall in key sales metrics has underlined why the buying group is considering a consolidation play.
Nisa, which is currently the subject of a £130m takeover bid from Sainsbury's, reported EBITDA of £8.6m for the year to 2 April 2017, just beating its £8.5m target and 17.8% higher than the previous year.
Profit before tax was £2.8m, which was a turnaround of +£8.1m compared with the £5.4m pre-tax loss it recorded in FY16.
But while the return to profitability – and last week's refinance – speaks to the group's recovery under CEO Nick Read – from a position of near bankruptcy – Nisa's turnover fell 2.6% to £1,252m, following the loss of the My Local business, which went into administration in June last year.
Nisa said this would have been 3.8% up on a like-for-like basis following the gain of 298 stores that McColl's Retail Group bought from the Co-op. Nisa said the new MRG stores contributed £8m of sales in the last financial year but would account for over £200m of sales in FY18, and with strong uptake of its new Store of the Future 2 format, it is targeting £2bn sales by 2019.
But Read said basket sizes and number of customer visits a week were decreasing, and impulse sales falling. "The uplift in performance throughout FY17 continued to build on the foundations laid in FY16, when Nisa returned to profitable growth," said Read.
"It has also helped us to convey a message of long-term sustainability, key to securing the confidence of our banking partners in our recent refinancing discussions.
"The business now has the security of a £120m facility for a period extending to five years, the terms of which are more favourable than our previous facility. Nisa is well placed to continue the execution of its three-year strategy, to grow profitably and create a sustainable business."
Read did not give any further guidance on the Sainsbury's bid other than to confirm that one recent proposal was "of sufficient merit" to grant the party involved a period of exclusivity for due diligence.
"Should that party wish to make a formal offer for the company, the board will at that stage determine whether it is appropriate for this offer to be put to members. It will then be for the members to determine whether or not they wish to accept the offer," he added.
He confirmed that winning the large contracts such as the McColl's business and the 47 Bourne Leisure stores were vital in terms of Nisa being able to commit to investment in its Heritage own-label range, which along with its Epositive Evolution system and new Store of the Future 2 Evolution format were cornerstones of the business.
Nisa said 170 stores were converted to the new format during the year. It also added 515 new stores to the group, compared with 476 in the previous year.