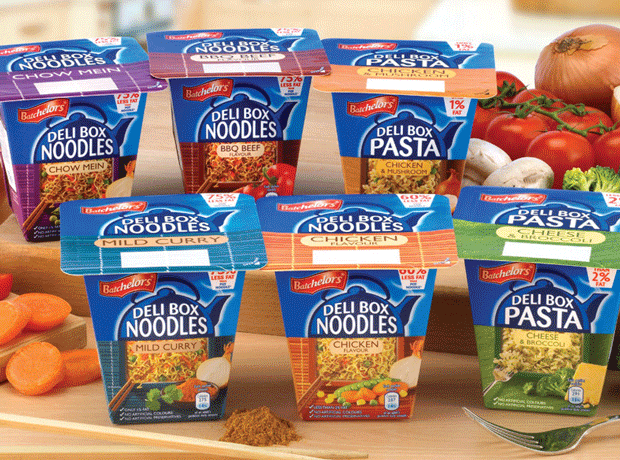 Premier Foods' (PFD) boss Gavin Darby has hailed the "renaissance" of its Bachelors brand under its partnership with Nissin Foods as the UK-listed supplier reported a revival of fortunes in the second quarter.
Group revenues for the 26 weeks ended 30 September 2017 were £353.3m, up 1.5% on the prior period.
That first half sales rise was driven by a far stronger second quarter, as group revenue increased 6.2% in the quarter year-on-year following weak first quarter trading.
Premier said sales growth was heavily underpinned by its strategic partnerships with Nissin and Mondelez International – which accounted for some 44% of the group's first half revenue growth.
Darby told The Grocer that the two partnerships provided roughly equal growth between them, with the Nissin tie-up driving a large chunk of sales improvement in the UK, while Cadbury licenced goods helped grow international revenues.
Premier's strategic partnership with Nissin, which saw the Japanese noodle-make take a stake in Premier of almost 20%, was a controversial arrangement when it was penned in March 2016 as it was signed in preference to a sale to US food group McCormick.
Premier insisted the partnership would materially add to its top-line in its 2016/17 financial year and Darby pointed to the second quarter sales uplift as evidence the benefits of the deal have moved from "strategy to reality".
During the year Premier launched Bachelors Super Noodle Pots and Soba Noodles in the UK – both of which leveraged the supply chain capabilities of Nissin.
The previously declining Bachelors brand grew by 7.8% in the period and increased its category share by nearly two percentage points year-on-year – with Darby pointing to its move into on-the-go eating as a crucial strategic development.
Darby said the noodle category has been dominated by Unilever in snacking and Premier around in-home eating. However, Premier's move into snacking has increased competition and innovation in the category and has helped it return to wider growth.
"There is a real opportunity to grow the category if we can get these brands into the world of informal eating," Darby said.
He said the Nissin partnership would drive further growth as more of Nissin's brands are introduced to the UK and the tie-up underpins more innovation for the Bachelors brand.
A second key driver of growth was Premier's nascent International business, with sales up 23% on a constant currency basis in the first half and by 30% in the second quarter. A key part of the business unit's success to date is due to the growth of Mr Kipling and Cadbury cake in Australia, which has recently been extended to the New Zealand market.
"People need to start thinking about premier differently," Darby said. "We are no longer just a UK ambient grocery leader, we're a much bigger, global proposition in the context of our Mondelez and Nissin partnerships."
Premier reported a half-year trading profit of £48m, which was in line with the previous year. Adjusted profit before tax crept up 0.5% to £26.4m during the period, while it posted a statutory profit of £0.3m after a loss of £55.6m in the same period last year.
Darby said Premier's gross profit margins improved in the second half as it took longer than expected to mitigate pressures from rising input costs triggered by the fall in the pound.
Premier's shares – which touched 60p around the time of the 2016 bid from McCormick – jumped by 6.2% back to 38.75p today after hitting a year-long low of 36.5p yesterday.
Shore Capital's Clive Black commented: "It is genuinely pleasing not to be recording disappointment and more stress from Premier. In fact, we are happy to pat management on the back for the trading performance in Q2, a performance that may help support the mood music around the shares today."
Jefferies' analyst Martin Deboo added: "Q2 sales trends are encouraging and make for one of the more positive trading updates we have read from PFD in a long while… The challenge is to hold on to these gains by plugging the leaky bucket at the bottom end of the business."