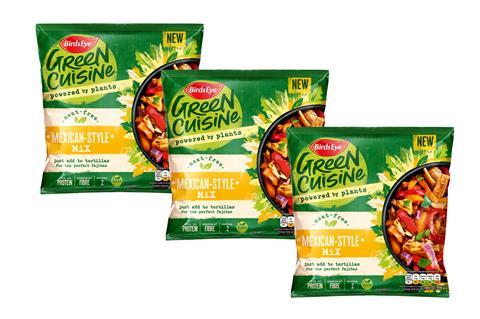 Birds Eye owner Nomad Foods is eyeing up a pipeline of European frozen food assets to capitalise on booming sales and profits during the coronavirus pandemic.
The group also announced it was returning $500m (£380m) to shareholders and accelerating investments in the expansion of the plant-based protein sub-brand Green Cuisine.
Reported revenues jumped 11.4% to €599m (£541m) in the second quarter of 2020, with organic growth of 12.3%, as shoppers across Europe stocked up their freezers during the height of panic buying.
Adjusted EBITDA in the three months to the end of June soared 21% to €119m (£107.4m) as a result.
Nomad lifted full-year guidance on the back of the strong trading and expectations shoppers would stick with frozen foods beyond the crisis. The business now expects annual EBITDA of €460m (up from between €450m and €460m) and organic revenue growth in the high single-digit percentage range (up from mid single-digit range).
Chairman and founder Martin Franklin said the group was "sharpening" its M&A focus behind a targeted pipeline of European frozen food acquisitions. "This refined strategic approach creates an opportunity to drive long-term shareholder value through the accretive return of excess cash while retaining financial flexibility to pursue our growth ambitions," he added.
Co-chairman and founder Noam Gottesman said: "We are pleased with our strong first-half 2020 performance and now expect that second-half organic revenue growth will remain elevated. This leads us to raise our guidance while also enabling us to accelerate strategic investments to convert the unprecedented adoption of frozen food and trial of our brands into permanent consumption behaviour."
First-half revenues rose 11% to €1.3bn, with organic growth of 9.8%, and adjusted EBITDA increased 8% to €239m. Pre-tax profits in the six-month period reached €143.8m, compared with €98.7m a year earlier.
CEO Stéfan Descheemaeker said: "We experienced continued robust demand throughout the second quarter, even as restrictions were relaxed across Europe beginning in early May.
"Frozen food has proven to be one of the most durable consumer categories throughout the Covid-19 pandemic, a testament to its role in offering families quick and nutritious meal solutions at home.
"These are values which we believe will transcend beyond this acute period and appeal to a broader set of consumers in a post-Covid-19 world. As Europe's leading frozen food company, we believe Nomad Foods is uniquely positioned with the strategy, resources and execution discipline to accelerate growth and drive sustained value creation for our stakeholders."