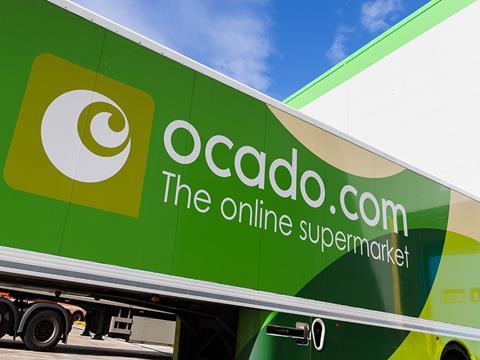 Top story
Ocado (OCDO) has grown its retail revenues by 12% in the fourth quarter, driven by a double-digit increase in order numbers.
Retail sales rose from £348.9m to £390.7m in the 13 weeks to 2 December as order numbers rose by 13.1% from 283,000 to 320,000.
Average order size declined 1% from £105.94 to £104.91.
Ocado said its new Andover and Erith customer fulfilment centres "continue to perform well", with Erith now processes sing over 30,000 orders per week.
CEO Tim Steiner said: "Our unrelenting focus on delivering consistent high levels of service and value to our customers in the U.K. has produced another quarter of satisfying growth. The new capacity that we have brought on stream in CFCs 3 and 4 in Andover and Erith has enabled us to again report double digit growth in new customer acquisition. Both facilities are performing well and Erith continues to ramp up in line with our expectations.
"Although in many respects 2018 has been a transformative year for Ocado, the story has only just begun. We look forward to the coming year and continuing to turn our substantial opportunities into sustainable value for all our stakeholders".
Morning update
PZ Cussons (PZC) has issued a trading update for its half year to 30 November, detailing "good" performance in Europe and Asia but "challenging" trading in Africa.
In the UK Washing and bathing division, a significant number of new product launches have taken place in the first half. This has driven good growth across the key brands of Imperial Leather, Carex and Original Source, with increasing focus on trend-led products such as Imperial Leather 'No Drama Llama' Foamburst and Carex 'Unicorn' handwash.
In its beauty division, new product launches and further expansion of on and off-line distribution channels, has driven growth across the portfolio of brands. In particular it has seen strong growth of St Tropez in the United States, which now accounts for approximately 15% of the division's revenue.
Asia saw good performance offset by the weakening of Asian currencies against sterling. With solid performance in Australia and a strengthening of the Cussons Baby brand in Indonesia.
However, it in key African market of Nigeria it has continued to struggle as consumer disposable income has remained weak ahead of the general election which is scheduled for February 2019.
There have also been cost challenges from a further 10% weakening of the naira against the US dollar in the period and additional transport costs from significant disruption being faced in clearing goods at the port.
PZ Cussons said this situation will result in a lower first half profit contribution than the same period in the prior year.
"We expect trading conditions in Nigeria to remain subdued, and we are continuing to actively manage and review the Nigerian portfolio to ensure that we mitigate short term volatility and are best placed for when growth returns to the market," the group said.
Looking forwards PZ Cussons said it expects consumers to remain under pressure in all of the markets in which it operates.
"Despite this, our unrelenting focus on continued product innovation and further expansion of our distribution are expected to underpin continuing good performance in Europe and Asia.
"The overall outturn for the full year will, as in prior years, depend in part on the macro environment in Nigeria during the seasonally-important second half of the year, and we continue to manage that business accordingly."
On the markets this morning, the FTSE 100 is flat at 6,883.5pts.
Ocado is up 0.8% to 800p so far today. PZ Cussons has fallen 4.3% to 215p on this morning's news.
Early risers include FeverTree (FEVR), up 3.7% to 2,455p, PayPoiny (PAY), up 3.1% to 794.5p, Premier Foods (PFD), up 1% to 43.7p, Coca-Cola HBC (CCH), up 1.5% to 2,482p.
Fallers include Marston's (MARS), down 4.5%, Hilton Food Group (HFG), down 3.5% to 880p, Hotel Chocolat (HOTC), down 2.8% to 275p and Associated British Foods (ABF), down 2.1% to 2,154p.
Yesterday in the City
The FTSE 100 rebounded on a yet another turbulent day in UK politics, rising 1.2% back to 6,880.2pts yesterday.
However, Sainsbury's (SBRY) slumped 7.2% back to 275p yesterday after asking for an extension of the CMA process to investigate its merger with Asda. The shares fell on investor concerns that the request for extra time suggested the CMA could be preparing to demand significant remedies before it will allow the merger to take place.
Other fallers included PayPoint (PAY), down 4.2% to 771p, Greencore (GNC), down 2.1% to 167.6p, and McColl's (MCLS), which dropped a further 2% to 60p.
Strong risers included FeverTree Drinks (FEVR), up 4.8% to 2,367p, Just Eat (JE), up 4% to 572.2p, Devro (DVO), up 3.8% to 164.4p, PureCircle (PURE), up 3% to 278p and Hotel Chocolat (HOTC), up 2.9% to 283p.
FTSE 100 risers included Coca-Cola HBC (CCH), up 2.4% to 2,445p, Associated British Foods (ABF), up 2.3% to 2,200p and Imperial Brands (IMB), up 1.2% to 2,430p.
British American Tobacco (BATS) rose 0.5% to 2,739.5p after updating the market on second half performance.