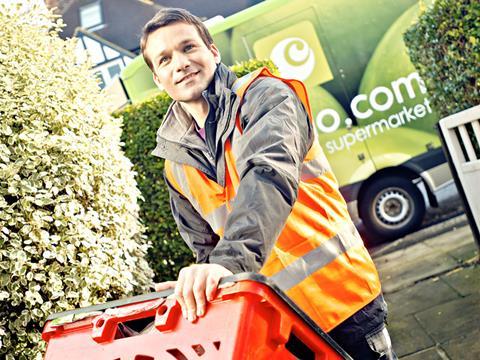 Ocado's (OCDO) shares jumped by more than 8% in early trading after the online grocery operator reported "steady progress" in the first quarter of 2016, marginally ahead of consensus.
Gross group sales climbed 15.3% to £312.4m in the 12 weeks to 21 February from £271.1m in the same period in 2015, and gross retail sales – comprising Ocado, Fetch, and Sizzle orders – rose 13.8% from £252m to £286.7m.
The online grocery business reported that the average number of weekly orders grew 16.9% from 183,000 to 214,000 but average order size fell 2.9% from £114.72 to £111.41.
Goldman Sachs pointed out that the fall in order size was less than the average UK Food Consumer Price Index over this period at minus 2.8%.
The broker said this implied that items per basket demand was strong and that Ocado had driven strong volume growth in a competitive, deflationary market.
Ocado shares were up by 8.5% to 284.1p in early trading, but have since settled down to currently trade 3.2% up at 269.9p.
Duncan Tatton-Brown, chief financial officer, said Ocado continued to "innovate our proposition…With our continued focus on customer satisfaction, through innovation we expect to keep growing ahead of the online grocery market".
Tatton-Brown said the company was looking at innovative models of delivery, but declined to go into specifics about whether they included drones and driverless vehicles, for example.
"We are innovating in the interfaces we have with the consumer of our overall proposition but also how we might deliver to customers. We have some ideas, we have some things we're working on…we will continue to address the boundaries of this because the market is changing and I think will continue to change."
Ocado is in the process of amending its 25-year deal with Morrisons, including providing in-store picking technology to the supermarket. Tatton-Brown said final contractual terms were not yet agreed but would be "relatively soon". Agreement had been reached across "a number of areas" in principle, he added.
Tatton-Brown said Ocado was still working on the new health and beauty site, a joint venture between its subsidiary Speciality Stores and Marie Claire, the fashion glossy magazine owned by publisher Time Inc, which The Grocer reported was being set up in February last year.
"Expect some further development and aspects before the end of this calendar year," he said.
The dedicated stand-alone website would join Sizzle, a kitchen and dining store and Fetch, which sells pet products.
He also said Ocado's confidence in signing an international deal was "undiminished".
Tim Steiner, Ocado chief executive, said: "We are pleased with the steady progress in our business, maintaining double-digit sales growth in a retail environment that remains challenging, and post period end we shipping more than 250,000 in a single week for the first time.
"We believe our focus on customer satisfaction and commitment to improving what we offer to consumers through innovation and our proprietary IP [intellectual property] will continue growing ahead of the online grocery market."
Ocado will post its interim results on 28 June.