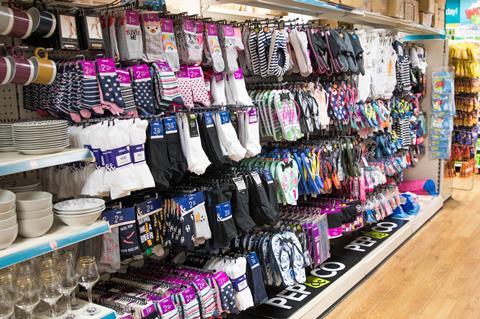 Poundland's sales growth continues to be driven by Pep&Co clothing outlets, according to a first-half trading update from owner Pepkor Europe.
Revenues grew by 3.1% to €404m in the second quarter ending 31 March and by 1.6% to €920m in the half year.
No like-for-like sales figures have been provided but the revenue increase outstripped a year-on-year rise in store numbers, which analysts have taken as a sign of improvement.
Store numbers rose by 0.5% from 871 to 875, with 20 opened and 16 closed as Poundland continued to 'rationalise its portfolio', according to the update.
Closures of stores in weaker catchment areas had been balanced with 'carefully selected new store opportunities in stronger locations'.
The update was the second in a row to credit Poundland's Pep&Co 'shops in shops' for helping the chain outperform the wider high street.
'Poundland continues to outperform the wider UK high street, driven primarily by the competitive differentiation from the introduction of clothing shop-in-shops, now present in approximately 300 stores, and measured product range extension to support a broader range of price points,' the update said.
Poundland recently announced separately that an edited range of Pep&Co clothing was being introduced across its whole estate.
Revenue for the Pepkor group, which includes Pepco in central Europe, rose 12.5% to €733m in the quarter and 14.2% to €1.7bn in the half year.
"Pepkor Europe is rapidly developing into a strong, geographically well balanced pan-European variety discount retailer," said Pepkor Europe CEO Andy Bond.
"The strength of the group's trading performance in the first half-year reflects our market-leading positions within a core discount segment accessed by an increasing number of customers. With the benefit of scale leverage in Pepco and targeted efficiency improvements within Poundland, profit growth in the half-year will be stronger than the revenue growth reported today.
"Our trading progress has been matched by our strategic development. We continue to confidently expand Pepco and our belief that the Dealz format in mainland Europe can provide an exciting additional source of growth is increasing.
"Our planned investments in scaleable infrastructure across the group to secure the growth opportunity available to us may slow our rate of earnings growth in the second half year, but with a focused strategy in place and a strong financial base, the opportunity for long-term growth across Europe is clear."
Commenting on Poundland's results, GlobalData retail analyst Amy Higginbotham said: "The increase in its number of stores by 0.5% implies an improvement in like-for-likes, which accelerated in its second quarter."