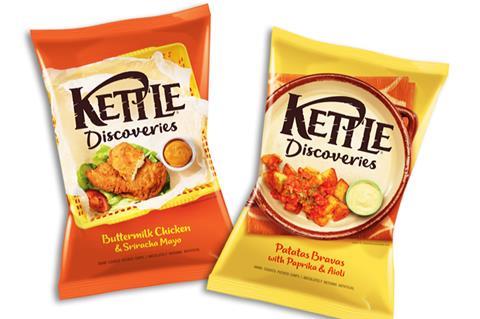 Premium crisps manufacturer Kettle Foods has cut its losses by over 85% in the year ahead of its sale to Irish food giant Valeo.
Kettle's annual operating losses amounted to £917k in the 12 months to July 2019, compared with £7.3m the prior year – based on 2018 pro-rated to 12 months figures.
Revenues meanwhile, rose slightly to £89m as the brand behind Kettle Chips and Metcalfe's Skinny Popcorn gained 0.5% market share to achieve a total of 3.6%.
The growth in market share was achieved due to high levels of discounting and promotional spend, the company said, as competition within the snacks and crisps market "continued to be tough throughout the year".
In September, Kettle's operations in the UK, Europe and the Middle East were sold to Valeo Foods – owner of Rowse Honey, Barratt and Jacob's, for £66m.
Kettle's US arm remains owned by Campbell Soup Co.
Valeo vowed to expand Kettle's international export business by leveraging the group's existing supply chain, which distributes to approximately 90 countries globally.
Looking ahead, Kettle also aims to accelerate the growth of its brands, while maintaining "its premium position in the market", it said.
The coronavirus outbreak meant the business had to adapt to the "recent changing patterns of shoppers behaviour", MD Ashley Hicks said.
"We continue to see growth in the snacks category, both for indulgent treats like Kettle and lighter snacks like Metcalfe's," he added.
"Strengthening relationships with key customers and productivity improvements throughout the supply chain will continue to be the drivers of business performance."
The total crisps, snacks and popcorn category has recently experienced a 12.3% growth in sales as a result of increased in-home consumption, and Kettle Foods claimed to have outperformed the market during this period [IRI total market 4 w/e 22 March 2020 vs prior year].