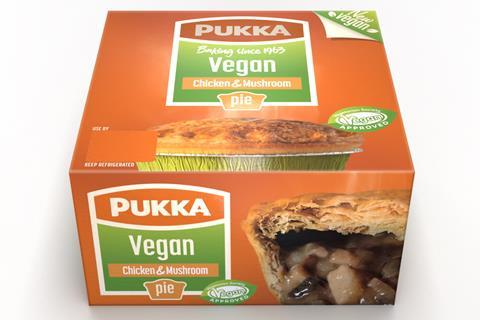 Pukka Pies is investing a further £4.5m at its Leicestershire bakery after sales and profits heated up in 2020 despite the disruption to the foodservice business caused by the coronavirus pandemic.
The pie brand, which took home the Brand of the Year title the 2020 Grocer Gold Awards, plans to enhance manufacturing capacity and capability at the Syston factory as it gears up for future growth.
Turnover at Pukka climbed more than £350k to £53.1m in the year ended 25 May 2020, newly filed accounts at Companies House revealed.
Growth was curtailed in the final quarter of the year as the first national lockdown at the end of March meant Pukka was no longer able to sell its pies at football stadiums across the country.
Pre-tax profits also jumped 13.5% to £4.1m despite the challenges as previous investments in the bakery helped margins expand as costs fell.
CEO Deborah Ewan said the company celebrated a number of milestones in 2020, including its biggest-ever investment in marketing with 'The People's Pie' campaign, the launch of its first plant-based pie, a new sharing range designed for two and scooping the Grocer Brand of the Year award.
"Despite the challenges we have all faced since March last year, our business remains in good health, which is why we are pleased to be able to announce this continued investment in our business," she added.
"Our sales in retail have continued to rise over the last year, while sales in foodservice have reflected the difficulties our customers in this sector, who we continue to support, have had over this same period."
Pukka continued to focus on sustainability across the bakery in 2020, with 100% of its electrical supply now generated from renewable schemes and the introduction of fully recyclable plastic-free packaging across its chilled supermarket range.
"We're a family run business that started making and baking pies in 1963 and we are still looking for ways to innovate and improve our business to make sure we are giving the people of Britain what they want," Ewan said.
"Despite all the turmoil in the market, our ambition hasn't changed. We want to put more pies on more plates more often and that means a significant investment to ensure we are enhancing the capability and capacity of our bakery.
"We have exciting plans for 2021 and are confident that Pukka will continue to grow for many years to come."
Pukka employs 375 staff in Leicestershire and supplies supermarkets, fish and chip shops and sports stadia.