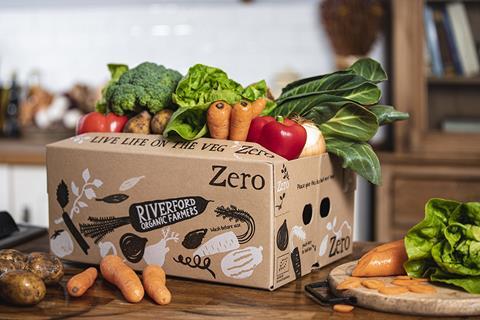 Vegetable box provider Riverford Organic Farmers saw a double-digit jump in sales last year after a "phenomenal surge in demand" during the initial lockdown.
Turnover at the Devon-based company jumped 13.5% to £75.7m for the 52 weeks to 30 April 2020 as a spike in demand at the end of its financial year added to strong sales and growing demand in the pre-pandemic period.
Riverford said its staff and franchisees managed to deliver more than 500,000 boxes in just seven weeks as the initial lockdown kicked in.
Rising sales saw underlying operating profit increase from £3.1m to £4.2m. However, its decision to exit its long-standing franchise model incurred exceptional costs of £5.7m, causing it to post a loss of £1.5m for the financial year.
MD Rob Haward said the group had continued its positive trading momentum into the current financial year, with sales up 45% year on year as it benefited from "unprecedented growth in home delivery services".
He added the growth was being achieved despite it needing to reduce its range to meet customer demand and to limit sales to new customers.
"We also took the decision to maintain a narrower more veg-centric range as we build back up from just boxes in the spring of last year. Sales remain at these high levels as the continuing restrictions on people's lives, drives strong demand for home delivery of fresh food," he said.
"Our growth this year has predominantly been driven by existing customers buying more frequently. As the lockdown pressures ease, I expect to see our sales fall from current level for a period of time to settle to a new level. I then expect the health, ethics and environment drivers that were strong before the pandemic to return even stronger and fuel our future growth."
Riverford became employee-owned in June 2018 and gained B Corp status in 2020. Last year it shared 15% of profits among co-owners or invested back into the business, including investment into solar panels and a major switch to home compostable packaging.