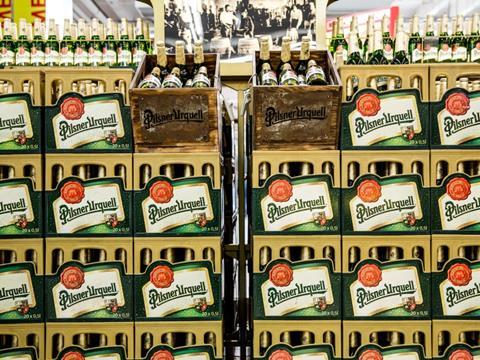 Peroni brewer SABMiller has reported a 1% dip in third quarter lager volumes, driven by a significant decline in China.
The fall in organic volumes was something of a surprise, with analysts predicting a modest sub-1% volume rise during the third quarter ended 31 December.
China volumes declined by 9%, including double digit declines in the northeast and central provinces due to "the continuing impact of the previous quarter's adverse weather conditions in key regions".
SABMiller's measure of net producer revenue was up 4%, with growth in all regions.
Chief executive of SABMiller, Alan Clark, commented: "We continued to drive steady net producer revenue growth, notwithstanding varied local market performances, as we benefited from the breadth of our global portfolio of businesses. During the quarter, our Latin America and Africa businesses continued to grow both volumes and revenues, together with Europe, while more difficult trading conditions, particularly in China, held back the overall group performance."
In the United Kingdom, group NPR declined by 5% reflecting declines in the Polish brand portfolio, together with a decline in Ireland of Miller Genuine Draft, while Peroni Nastro Azzurro continued to grow by double digits.
In total, Europe saw 2% volume growth with lager up 2%, assisted by a beneficial comparative quarter in the previous year.
North America saw soft volumes overall (down 3%) but with trend improvement in Miller Lite and Miller High Life
Volumes in Africa were 4% up, but Asia Pacific saw a 7% volume decline due to the weak performance in China.
As global lager volumes have stalled, SABMiller has increasingly looked at soft drinks for growth. Its third quarter trading update did not split out soft drinks volumes, but it agreed to combine its soft drinks bottling operations in eastern and southern Africa into a new company with The Coca-Cola Company and Coca-Cola Sabco during the quarter.
SABMiller was 1.8% up in early trading and the shares have risen by over 10% over the past year.