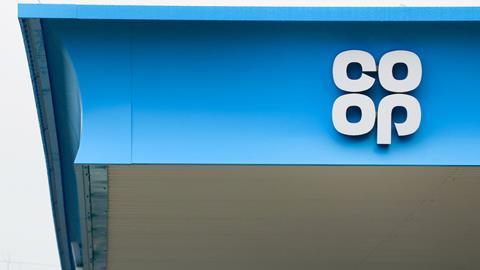 Soaring food sales during the coronavirus lockdown period have boosted overall first half revenues for the Co-operative Group.
Total revenues in the 26 weeks to 4 July were up 7.6% to £5.8bn driven by the strong performance of its food and wholesale arms during the period.
Revenues in food rose 5.2% to £3.9bn, with a like for like sales increase of 9.9% in the second quarter as customers shopped closer to home and ate out less frequently during lockdown.
Like-for-like sales (excluding fuel) were up 8.8% over the first half, representing 7th year of like-for-like growth as its market share increased 0.5 percentage points to 7.1% - the highest it has been for two decades – peaking in the 12 weeks prior to 14 June
Meanwhile, Nisa wholesale revenues increased 13.9% to £801m, also benefitting from local shopping in lockdown and range improvements under Co-op ownership.
This strong sales growth saw underlying profit in its food business increase by 46% to £175m.
The Co-op said it did incur significant additional costs in excess of £40m as a result of Covid-19 including protective equipment, colleague reward and absence as well as making stores safe. Additionally, margin rate was impacted by a customer shift leading to higher mix of lower margin items such as beers, wines and spirits and a reduction in higher margin food to go.
However, despite these pressures, strong cost control and increased productivity in stores and logistics meant the sales growth converted into strong profitability.
Co-op also received £33m government support in first half in business rates relief and furlough payments for limited number of colleagues
That meant group underlying operating profit doubled to £121m, while group profit before tax was up 35% at £27m
Elsewhere, its Funeralcare revenue increased 3.5% to £148m, 22% increase in volume offset by reduced average revenue per funeral due to Covid-19 restrictions
Legal services revenue flat year-on-year at £19m with increased demand for will and divorce services.
Co-op CEO Steve Murrells commented: "We are living in unprecedented times, but the response of our Co-op has been exceptional and I'm immensely proud of my 60,000 colleagues who've helped to feed and care for the nation during this difficult period. We've shown how our co-operative approach to doing business provides enhanced value for our customer-members and the communities in which they live. At a time of crisis, our country needs a strong and progressive Co-op and these results evidence that we are ready to deliver even more for our key stakeholders.
"The coming months and years remain uncertain, and we know our own Co-op will not be immune to the pressures the recession brings to family budgets and to local and national economies. We will continue to invest within our core businesses to ensure that our Co-op value resonates within Co-op households and local communities."
Chair Allan Leighton added: "During the first half of 2020 we have shown that commerciality and co-operability can thrive and feed off one another, when both are given the same level of focus and importance. The Co-op is a different kind of business, but one whose enduring value can best be evidenced during times of need and hardship. In the difficult times ahead, we will ensure that our Co-op continues to make the world a fairer place to live in."
During the second half the group said competition is set to intensify in food but it remains well positioned. It has resumed its store opening programme and will invest £130m in opening 50 stores, giving 15 stores significant extensions, and giving 100 further outlets major makeovers, creating 1,000 jobs before the end of the year.