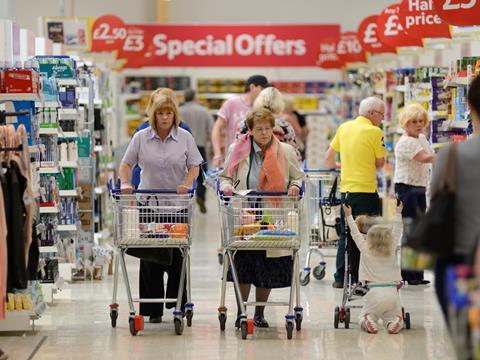 The City woke up to Tesco's turnaround progress this week as it solidified its position as the best performer among the big four.

Grocery market share data once again showed Tesco as the best of the mults, with both Kantar Worldpanel and Nieslen finding its 12-week sales were down just 0.2%.

For the second consecutive month Kantar's four-week data found Tesco as the only one of the big four in positive growth, with sales up by 0.5% over the four weeks, having risen by 0.9% in the previous period.

Broker Macquarie this week predicted Tesco would post a 90% jump in profits when it released its interim results in early October.

Macquarie said Tesco's Farms brands initiative had improved price perception as well as volumes, concluding: "We believe Tesco can rebuild margins over the next two to three years."

Despite mounting evidence of Tesco's positive momentum under Dave Lewis, its share price has lagged turnaround contemporary Morrisons. Up to the end of last week the Bradford-based grocer's shares had risen 32.8% year on year, but Tesco's shares were still down 4.1% from September 2015. Tesco's shares did respond this week, rising 5.4% on Monday and Tuesday and recorded a five-month high of 178.4p.

"With a tight control on costs, Tescos margins will be building, driven by high operational gearing. This should give it resources to deal with anything Asda may do," said analysts at HSBC.

Kantar identified Sainsbury's as the next best performer with 12-week sales down 1.4%, but Bernstein noted this was heavily driven by general merchandise. Its GM sales were up 8.5%, which softened a significant 3.2% decline in grocery sales.

Morrisons' till roll growth was -2.3%, though this is heavily driven by store closures.

Asda's sales decline of 5.4% was comfortably the largest of all the tracked grocers, but it represented the fourth consecutive 12-week period of improvement, having bottomed out at -5.9%.

Aldi and Lidl grew their sales by 11.6% and 6.3% respectively, though Lidl's first dip back into single-digit growth suggests "the possibility of negative LFL growth" according to HSBC.

Nielsen, meanwhile, found that during the four weeks ending 10 September 2016, UK supermarket value sales were up 0.4% year on year while sales volumes increased 0.3%.

Both metrics haven't been positive for two consecutive months in over two years.