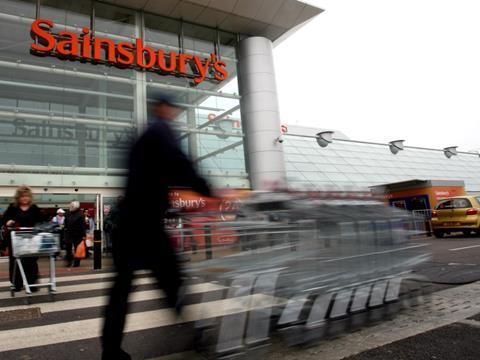 Sainsbury's share were up by 5.5% from their Friday close price early this morning after its fourth quarter like-for-like sales defied doom-mongering forecasts.
The supermarket hasn't matched the 2015 share price resurgence of its contemporaries Tesco (up 25% so far this year) and Morrisons (up 10.6%), but that is largely because it didn't hit the depths its rivals did towards the end of the year.
This morning's fourth quarter like-for-like sales fall of 1.9% further cements Sainsbury's position in both a positive and negative sense. It is experiencing a far softer landing in terms of sales downturn than its rivals, but that also means Mike Coupe has less opportunity than his fellow new supermarket CEOs to reinvent the wheel and drive a fundamental turnaround.
Sainsbury's share price bounce this week (now up 8.4% in 2015 – though its early morning gains were wiped out later in the day) was primarily driven by relief that the supermarket's performance was not worse, rather than optimism it will soon to get better.
Coupe remains defiantly upbeat, but he conceded the headwinds facing the industry are unlikely to ease in the near future.
In particular he pointed to spiralling food price deflation as a heavy drag on year-on-year figures. He said that food deflation reached -2.5% during the quarter – meaning that Sainsbury's beat this deflation figures with its own like-for-likes.
"The reality is there is no reason to believe that will change in this calendar year or even into next year," he said. "The commodity price deflation which is the main driver of deflation in our industry isn't going away anytime soon."
There are some trends supporting a recovery – Coupe said Sainsbury's has become 9% more price competitive against the discounters, it saw a 3% sales volume uplift in the 1,100 products in which it cut prices and consumer confidence is generally on the up.
It does continue to outperform in convenience, with sales up 14% in total. But online will be concerning as its 5.5% year-on-year growth in the quarter (according to Shore Capital's Clive Black) is considerably down on growth rates across the online market.
It's not entirely clear what else Sainsbury's can do to drive a return to overall sales growth without eating into its profits the way its distressed competitors have been forced to do.
Sainsbury's is expected to post a full-year fall in operating profit of around 22% to £700m when it releases its annual results, but this is some way behind the 52% collapse experienced at Morrisons and the near-80% fall expected at Tesco.
Analysts at SG suggested the supermarket is "the most vulnerable UK grocer", commenting: "Sainsbury's operational and financial leverage continue to make the group particularly susceptible to protracted levels of LFL and gross margin headwinds."
Arguing that Sainsbury's could be particularly exposed to a Tesco recovery, Shore Capital's Black commented: "The possibility of growing attrition to the market leader leads to uncertainty and a modest lack of visibility in Sainsbury's near-term financial prospects to our minds, noting as we do that a business that outperformed quarter-on-quarter for so many years is now demonstrably under-performing.
"Hence, the aspiration to win against the supermarket competition is perhaps more about the medium rather than near-term."
A 1.9% like-for-like decline in an environment where food deflation is at 2.5% is a decent performance – certainly Waitrose's early 2015 figures suggest poorer like-for-likes so far this year.
But Sainsbury's is becoming something of a victim of its own successes and its year-on-year comparatives will remain tough through most of this year. Running a steady ship is not small achievement in today's grocery retail environment – but investors don't want effectively managed decline, they want earnings growth and it's difficult to see where that will come from for a considerable time.
David Gray, analyst at Planet Retail, concluded: "We can only hope Mike Coupe and his team have something special up their collective sleeve to arrest the declines. Even for an accomplished retailer like Coupe, this may prove one task too far."