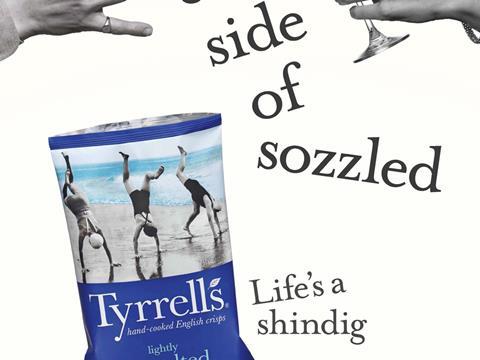 Amplify Snack Brands (BETR) grew sales by more than two-thirds to break the $100m dollar barrier in its second quarter, but the Tyrrells owner warned full-year growth will be slower than previously forecast due to market headwinds in the US and UK.
Overall net sales were up 68.7% year-on-year to $101m in the 13 weeks to 1 July, taking first half revenues up 64.8% to US$188.2m. The jump is sales was largely due to Amplify expanding its international presence with the £300m purchase of Tyrrells in August 2016.
Gross profit in the quarter was up to $38.5m in the quarter, representing 38.1% of net sales – slightly down from the first half figure of 39.2%.
Amplify CEO Tom Ennis declared himself "pleased with the continued growth and momentum across our portfolio of better-for-you brands".
However, he added: "Although we are encouraged by our first half performance, success of our new innovation and international momentum, we are updating our annual outlook for 2017 to reflect the continued near-term market headwinds we are experiencing in the U.K. and continued softness in U.S. food."
Amplify pulled back full-year forecast net sales to between US$385m-$400m, back from between $404-$420 forecast with its first quarter results.
Similarly, the owner of SkinnyPop popcorn, Tyrrell's and Paqui tortilla chips expects adjusted EBITDA to reach $92-100m, down from the previous forecasts of $103-$111m.
Ennis added: "We are in the right space, with the right brands with plenty of whitespace and runway ahead of us for continued profitable growth. We remain committed to executing on our strategic initiatives to drive sales growth, profitability and value for our shareholders."
Second quarter sales in North America were up from $59.9m to $69.6m, which operating income remained stable at $22.1m.
Its international business, which primarily composes of Tyrrells, saw quarterly sales reach $31.3m, but it reported an operating loss of $0.5m which led to a first half loss of $1.7m.
In May Amplify announced a number of leadership changes in its international business, including the departure of previous Tyrrells boss David Milner, citing the challenging food retail operating environment in the UK,
Today is has also announced that former Burton's Biscuits boss Ben Clarke will join its board on 1 September. Clarke had been serving as an international advisor to Amplify since May while it searched for a new international head following Milner's departure.
Ennis said of the Tyrrells business: "Our International team continued to make good progress on the improvement of our operating performance during the second quarter, although we continue to expect it to take time for us to return to the rate of growth and profitability we know the business is capable of achieving."