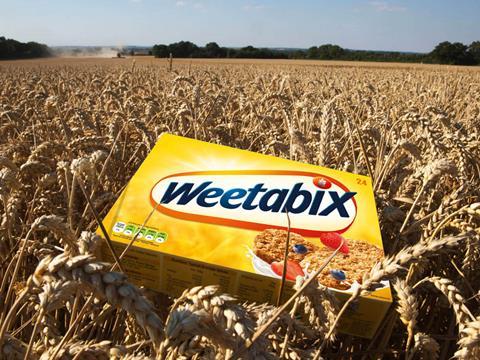 A declining market for branded cereals hampered UK sales of Weetabix in the brand's first full year under the ownership of US cereal giant Post Holdings.

Newly filed accounts at Companies House for UK trading arm Weetabix Ltd showed a decline in pro-rata sales of 6% to £303m in the 12 months to 30 September 2018, compared with £241.8m in its prior nine-month period.

The accounts say sales were hampered by a decline in overall cereal volume sales in 2018 as a result of a 0.4% drop in consumption occasions.

Additionally, private label cereals continued to increase market share at the expense of branded cereals as the discounters continued to gain share, leading to a decline in value sales in the sector.

However, gross margin increased to 37.2% from 34.2% due to lower marketing spend and cost improvements at its Burton Latimer and Corby factories.

Operating profits before exceptional items were up 8.3% on a pro-rata basis to £56m.

Weetabix Ltd made a statutory loss of £122.8m, though this was driven by £172m of waived loans to fellow group companies.

Immediate parent Westminster Acquisition Ltd made a pre-tax loss of £64m driven by a £95.8m exceptional charge relating to the impairment of trademark.

Post's most recent financial update said Weetabix brand sales, including its US operations, had fallen 1.8% to $205m in the six months to 31 March, impacted by a 5.8% volume decline in the second quarter and unfavourable pound to dollar exchange rates.