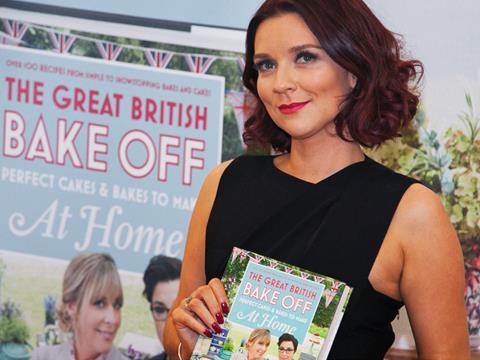 The Great British Bake Off as we know it is over. And the final BBC series went out with a bang, as creations including a fluorescent peacock cake, clockwork pie collection and a dubious 'Thor's hammer' bread sent the nation into a frenzy - with the finale boasting record-breaking viewing figures of 14.8 million.

The popularity of the programme was undeniably good news for the home baking category, which has actually been declining. Although year-on-year value sales were down 4.8% during the Bake Off period, [IRI 4 w/e 8 October 2016], the £97.9m figure still represented a £12.5m increase on two months beforehand, when Paul, Mary et al were absent from our screens [IRI 4 w/e 13 August 2016].

Online searches for baking products also increased by 6% compared with 2015 [Summit], in a continuation of a steady trend across the seven series. "Watching TV while browsing online is now the norm for many viewers and we can see a significant impact of GBBO on customer behaviour almost instantaneously," says Martin Corcoran, head of insight and consulting at online retail specialist Summit. "The show represents a great opportunity for retailers and manufacturers to boost sales."

It's big business, and brands and retailers have upped their game accordingly. Morrisons appointed its first ever 'bake officer' this year. Tesco scoured the teasers on BBC iPlayer every week to find out upcoming themes, which it used to produce tie-in baking tutorials, social gifs and tips. And brands have increasingly got involved on social media.

It's worked to great effect, says Jo Allison, consumer behavioural analyst at consultancy Canvas8. "Over the seven series, brands have become increasingly efficient at understanding and marketing around these 'themed' weeks. It works because it doesn't feel intrusive and lets brands become part of the hype without being too obvious."

So while Candice may have taken the Bake Off title, who were the winners in terms of sales?

Jaffa Cakes

The opening cake-themed week brought us such delights as lemon drizzle cake and mirror glaze sponges. But the humble Jaffa Cake was the real standout product thanks to Paul's deceptively simple-seeming technical challenge.

As bakers grappled to nail the shape of the iconic Jaffa, the challenge reignited the biscuit/cake debate and viewers also fiercely contested whether Paul was right to dip his in tea (if anyone's wondering, the answer is no).
Incremental Jaffa cake sales of over £250,000 in two retailers in two days
The publicity fuelled a 76% increase in searches for Jaffa Cakes on the Sainsbury's online grocery site in the 24 hours after the show compared with the 24 hours beforehand. Customer searches specifically for 'jaffa' went up by 136%, and orange jelly queries were up 150%.

Sainsbury's buyer for home baking Sioned Read was unsurprised to see the spike. "As an avid fan myself, I was certainly inspired to try my hand at the baking challenges, and clearly our customers were too. We're used to seeing a spike in demand each series."

But customers weren't necessarily following Paul's lead in making their own orange-flavoured creations, as many turned to ready-made. McVitie's saw incremental sales of over £250,000 in Jaffa Cakes across just two retailers in the two days after the episode aired.

"The country has clearly developed some strong Jaffa Cake cravings from watching the show, but decided that making them at home looks too tricky after watching the bakers tackle it," says Kerry Owens, McVitie's brand director.
The Great British Bake Off effect: week one rise in searches
Orange jelly: 150%
Coconut flour: 142%
Lemon drizzle cake: 136%
Jaffa: 136%
Jaffa cakes: 76%
Orange: 46%
Cooking chocolate: 40%
Dark chocolate: 37.9%
Flour: 26.6%
Percentage increase in searches 24 hours after first episode aired on 24 August
European specialities

The Bake Off may be quintessentially British, but it is well-known for promoting overseas specialities (last year's Swedish princess cake proved a particular hit with viewers). And this year was no different, as it shone the spotlight on both traditional and more unusual European bakes.

The technical challenge in the second week featured Viennese whirls, which saw a whopping 2,000% rise in searches on the evening of the second show [Summit]. Premier Foods, which manufactures Viennese Whirls under the Mr Kipling brand, won't reveal how sales performed at this time. But Graham Hunter, managing director for sweet treats at Premier Foods, says featuring in the trends is a definite boost. "It's not a spike [in sales] but it's one of the most watched TV programmes, so it helps," he says.

Next to benefit were the little-known German speciality of dampfnudeln, which became a Twitter trend as Paul set them as a technical challenge for bread week. Fans tried to make their own sweet dumplings (so popular in Germany there is even a song dedicated to them) and some even posted gluten-free versions on social media, enabling free-from brand Glutafin to get involved on Twitter.

And the newly introduced batter week sent online searches for Spanish churros soaring by 3,300% on the evening of its broadcast, as creations such as Jane's pistachio and white chocolate variety set tastebuds tingling. Searches continued to be 500% above average that weekend [Summit] and the interest seemed to translate to baking - on Sunday, the recipe for churros was number one on the BBC Good Food website.
Churros: searches for the fried-dough pastry treats rose 3,300% in week four
But again, it wasn't all about the baking - sometimes it was just about the eating. Tesco tried to tempt less industrious viewers by putting its ready-made churros on a '3 for £5' promotion shortly afterwards. And although it declined to reveal sales figures, the promotion should have put it ahead of its rivals, many of which don't stock pre-made churros (Lidl is one of the few that does, but only on a seasonal basis so they were not available at the time of the Bake Off).

Cake decoration

When you think of the Tudors, glitter isn't something that immediately springs to mind. But that didn't stop Selasi using thick glitter spray on his marchpane crown in Tudor week - and it was finishing touches such as these that viewers picked up on. Cake decorations experienced an upturn in their previously dismal fortunes, as value sales went from a 19.7% year-on-year decline to a 14% decline from August to October [IRI]. Cooking chocolate was also a star ingredient, going from an 8.9% loss to a 7.2% rise during this period.
Viennese whirls: searches rose 2,000% in week two
Decoration brand Cake Décor felt the benefits first-hand. "Glitter on cakes and then the painted cake details, these are trends we picked up on and we're pleased they have come through," says Alana Innes, marketing manager of Cake Décor. "Our products are all around decorating the cakes, and Bake Off, while it's really good, is a lot to do with the baking. So when these trends come through we're really pleased to see them."

The final BBC series of The Great British Bake off firmly established itself as a trendsetter. So anyone with a share in the home baking category will hope the Channel 4 series - which will present a fresh risk of a new line-up but a fresh opportunity of in-programme advertising - will have the same effect on sales. As outgoing presenters and repeat pun offenders Mel and Sue might say, the proof will be in the pudding.