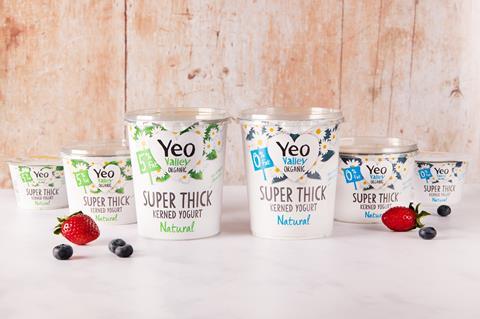 UK revenues and profits increased last year at Yeo Valley as innovation and elevated sales during Covid boosted performance.
Newly filed accounts for Yeo Valley Production for the year to 30 May 2021 showed sales were up 5% to £265m, driven by branded sales volumes reaching new highs.
Yeo said it sold more than one million kilograms in a single week for the first time as retail sales were boosted by UK shoppers consuming more calories in home.
Top-line growth was also boosted by innovation, with the launch of Little Yeo's Pouches, a new format for kids on the go, adding to the launch of its Yeo Valley Super Thick yoghurt in the previous year.
Yeo increased its share of the yoghurt market to 22%, from 21% in the previous period.
Yeo Valley has continued its ascendancy in 2021, riding the wave of consumer demand for yoghurt with a focus on health, according to the Top Products report for the category in this issue (p111). The brand added an extra £7m in retail sales in 2021.
The lockdowns across the year led to elevated production volumes, but it also incurred elevated costs due to absence rates, testing costs and increased segregation and hygiene measures.
As such, pre-tax profits increased from £4m to £6.6m, though the 0.9 percentage point margin increase to 2.5% remains short of its 5% target.
Operating profits increased from £4m to £6.8m due to sales volume increases and operational efficiencies, partly offset by rising labour costs.
The accounts added that Yeo raised additional bank financing of £12m to support investment in plant and machinery and invest in growing the brand.
Earlier this month it announced Yeo Valley Organic is ditching its fresh cream pots in favour of a recyclable bottles that can be stored in the fridge door.
It comes as the brand is also gearing up to return to TV screens next year with a £3m campaign, which will encourage shoppers to live more sustainably.