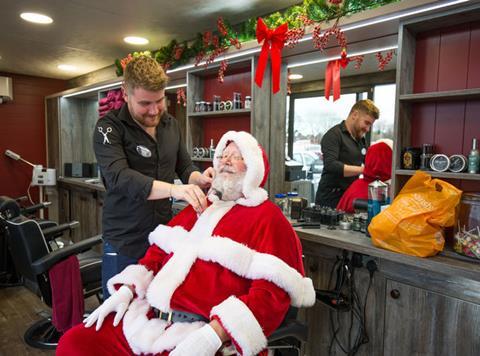 Sainsbury's has opened barbershops in two stores in Cheshire in partnership with Timpson.

Timpson already provides key cutting and shoe repairs at 155 Sainsbury's branches and now haircuts have been added to the services at Nantwich and Chester.

If they prove successful, more will be rolled out next year according to Sainsbury's, which introduced the barbershops by giving Santa a beard trim in Nantwich.
"We're delighted to expand our successful partnership with Timpson to now include barbershops, supporting our strategy to make Sainsbury's stores a convenient place to shop," said David Pilbeam, Sainsbury's head of property strategy and planning

"We know our customers are busy, particularly during the festive season and so we're always looking for new and innovative ways in which we can make their lives easier."

Timpson CEO James Timpson said: "We're really excited to expand our successful partnership with Sainsbury's and bring two fantastic barbershops to customers in Nantwich and Chester. Our skilled barbers will be on hand to offer customers a speedy shave and exceptional service so they can look sharp for the Christmas season, just like Santa."