This article was last updated at 12 noon on Friday 4 May 2018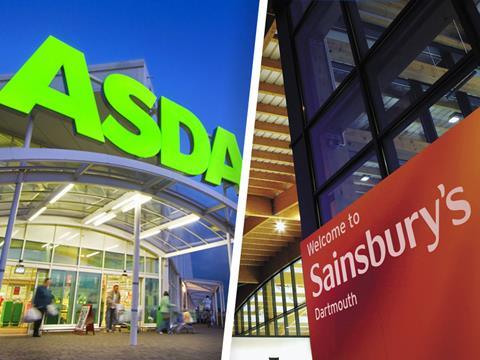 The market is still coming to terms with the Tesco-Booker deal and now this: a £51bn-sales combination play between Sainsbury's and Asda has been confirmed this morning. So what will it mean? And how on earth would it get competition clearance? Here's an updated analysis from The Grocer following the announcement earlier this week
The market was coming to terms with the Tesco-Booker deal and now this: a £51bn-sales mega-merger between Sainsbury's and Asda was confirmed on Monday, after the story leaked out over the weekend (the announcement was originally scheduled for Wednesday's annual Sainsbury's results).
So what will this mean? And how on earth would it get competition clearance? Here, we've pulled together various strands from The Grocer's extensive online analysis this week in an easy-to-read summary.
Who's buying whom here?
Sainsbury's plc (which will remain the name of the combined Sainsbury's-Asda business) is promising to create a "dynamic new player in UK retail, with an outstanding breadth of products delivered through multiple channels".
It's not quite a merger of equals. Sainsbury's will retain control thanks to a £2.975bn cash payment to Walmart. The chairman (David Tyler), CEO (Mike Coupe) and CFO (Kevin O'Byrne) will all hail from Holborn, which will remain the HQ. In return Walmart will take a 42% stake, and have two seats on the board. Asda will continue to be run by CEO Roger Burnley, and there are no plans to close its Leeds HQ.
Why has it happened?
It's clearly a bombshell announcement, though whether it's surprising is another matter. Asda has struggled to compete against the discounters Aldi and Lidl (appearing powerless to close the price gap, despite massive cost-cutting and restructures), while it's not been lost on Bentonville that the threat of a resurgent Tesco has only been compounded by the acquisition of Booker and the arrival with it of its hugely admired CEO Charles Wilson to run Tesco's UK operations.
The announcement noted that in the financial year to 31 December 2017, Asda's sales grew 2.6% to £22.2bn, representing a return to positive like-for-like growth for the full year on the back of volume growth in own-label grocery and fresh food, as well as "strong growth in online on both the groceries and clothing sides".
But "investments in price and overall customer proposition" led to "a planned reduction in operating profits" from £845m to £720m. The direction of travel has been clear for some time: Walmart can't keep milking the UK for dividends, as it has, in the midst of a discounter-led price war, and amid such structural upheaval. So something more fundamental had to be done.
The imperative on the Sainsbury's side is obvious too. Its acquisition of Argos, with same-day delivery in more parts of the country than Amazon, as well as click & collect, has been a considerable success, bolstering GM sales and enhancing its online capabilities. But Sainsbury's is struggling to compete on price on the food and drink front, and has fallen further behind Tesco in terms of scale with the Booker merger.
What is the value of the deal?
Combined sales total £51bn. Sainsbury's is paying £2.975bn to Asda parent company Walmart and issuing 1.6 billion new shares for a 42% stake, while Walmart has written off Asda's debts and pension obligations, taking a £2bn hit in the process. The valuation of Asda at £7.3bn – barely more than the £6.9bn Walmart paid for Asda in 1999 – has already risen with the increase in Sainsbury's share price.
So how did the market react?
Sainsbury's shares surged 15% to reach their highest level in almost four years on Monday, spiking by more than 20% to 327.1p in early trading.
As The Grocer went to press (on Thursday) it had fallen back to 302p. Bernstein analyst Bruno Monteyne said the share price did not yet reflect the material impact of the deal. "Either the market doubts [Sainsbury's confidence in a favourable] CMA outcome, the size of the synergies, or the execution risk."
What will happen to the fascias?
The combi plans to keep both fascias. That makes sense for two reasons: first, there's what Coupe called the "truly remarkable" "complementality of the store portfolios", with Asda weak in the south, and Sainsbury's weak in Scotland, the north and Wales). As a result there are "no planned Sainsbury's or Asda store closures of the combination" so far as Sainsbury's is concerned. Second, the two supermarkets are hugely different in terms of consumer demographics, though Coupe and his new Walmart 'colleagues' Judith McKenna and Roger Burnley stressed the strong cultural fit.
So if no stores are closing, and both head offices will remain, where are the synergies?
Much of the logic of the deal lies in greater buying power. Sainsbury's has identified £500m of buying "synergies", with multinational suppliers (85% of their products are currently supplied by the same 100 suppliers) expected to generate savings of £350m purely through price harmonisation. A further £75m each will come from integrating Argos outlets into Asda stores, and the rest from savings on utilities and other operational costs. These synergies would be in addition to the 10% reduction in prices on "many of the products customers buy regularly" that Sainsbury's expects.
As well as the obvious clout of joining together two supermarkets with a combined market share of 32% (a bigger share of course than Tesco's 28%) the deal will also give it access to Walmart's even greater heft, via joint buying arrangements, while Asda could benefit from Sainsbury's greater own-label expertise.
How worried should suppliers be?
It depends how big you are. The onus is on suppliers to help Sainsbury's achieve the synergies, including the 10% price reduction on everyday lines that it's held out as the most juicy and public-facing component of its 'sharpened' proposition.
Yet Coupe insisted the merger was a "great deal" for suppliers, driving greater efficiency, streamlining supply chains, enabling differentiated ranges, and the opportunity to grow sales via a more attractive proposition that would simultaneously boost footfall.
So far, lots of suppliers don't buy that. MPs, unions and agricultural bodies such as the NFU are equally worried. In some cases, though, the fear may be unfounded.
Coupe was at pains to point out he expected these synergies to come from "large, multinational suppliers, who make spectacular returns on equity and are very, very profitable".
"What we are trying to do is to identify synergies from those suppliers and reinvest them into UK customers."
The due diligence process – hosted via an anonymised, third party 'black box', to avoid competition abuse – has given both parties "a pretty good idea of the buying synergies", he said. "We know the arithmetic. What we don't know is who's buying better where. That's all stuff to work through. But what we know is that equalising prices on the same products, the money's there."
So it's not about better prices for bigger volumes (not yet anyway). This is simply about price "harmonisation" or "equalisation": ensuring that whichever retailer was achieving the best price on a particular line, the same price would be secured for the other retailer.
However, with the discounters achieving success through offering competitive pricing particularly in fresh produce and meat and fish – typically from smaller and in many cases British suppliers – Coupe stressed that "where we derive synergies is not necessarily where you would invest in price". He added: "We think we will be a force for good, not just in how we compete, but in terms of resilience and the capacity to compete on any number of fronts."
What protection will there be for suppliers?
Adjudicator Christine Tacon said on Wednesday that size did not matter when it came to the prospect of her protecting suppliers from a combined Sainsbury's and Asda behemoth.
Competition concerns
"Size makes no difference to my ability to regulate them," Tacon told members of the Environment, Food and Rural Affairs Committee when asked by chairman Neil Parish what she planned to do to stop the companies "stitching up" their supplier base.
In fact, the Adjudicator even suggested to MPs that the market might actually work in her favour.
"With my penalty powers I have the ability to fine in a way that's going to hurt. One per cent is a lot of money for a business with 30% of it," said Tacon. "In fact I would argue that the larger a retailer the more they are likely to embed IT and processing systems towards being Code compliant."
Tacon told MPs she hoped the result of the merger, if it goes through, might be to see Asda move from the bottom of the Adjudicator's league table of behaviour to sit alongside Sainsbury's close to the top. But the MPs failed to grasp the limits of the Adjudicator's remit in terms of suppliers: that the GCA is pretty much a spectator when it comes to stopping Sainsbury's and Asda from what another member of the committee described as "screwing suppliers into the ground".
Tacon made it clear that price negotiations have always been outside her remit. For suppliers, the only sunshine on the horizon would appear to be the possible intervention of the CMA.
But when it launches its investigation into the proposed takeover, most experts seem to think that, as with previous takeovers, the issue of store crossover and a potential reduction in consumer choice will be at the forefront of the CMA's probe.
Which way will the CMA go? Logic is one thing, lawyers quite another. And the CMA has been notoriously pedantic and fastidious in its interpretation. For example, when the Co-op acquired eight MyLocal convenience stores out of administration in 2016, the CMA took seven months to rule it could only buy the store in Widnes if it sold two of its other three stores in the same town. On that basis it's difficult to see how this combination play can get around competition concerns without some major remedies. Depending on the modelling used, retail store overlap between the two estates could result in as many as 245 store disposals – which would surely undermine the acquisition fatally – or as few as 15.
Why such a big variance? It's all about the changing retail landscape. As Coupe pointed out, the market has changed beyond recognition since the Morrisons takeover of Safeway (the last acquisition of retail stores of this size) in 2004. "It was a blunt fascia test," but with online retailers, discounters, delivery services (Just Eat), and even recipe box operators, as well as more sophisticated convenience store offerings, "you have to [view the market] as a continuum. It's a very different market and requires a higher level of sophistication. Whoever quotes 8% doesn't understand it.
It was in an interview with The Grocer in May 2016 that the CMA's then CEO Alex Chisholm first raised the possibility that the CMA might countenance the prospect of a 'big three' rather than a big four.
"We don't have a policy position on the number," he said. "But firms could come to us for confidential guidance, and some do."
Since then, the CMA has waved through the Tesco-Booker deal without any remedies, and while it did not acquire any stores (Tesco has no control over the prices set by independents that operate under the Premier, Londis and Budgens fascias), it was crucial, so far as Sainsbury's is concerned, in establishing the precedent of including discounters as a bona fide competitor.
The CMA's model has therefore evolved, based on the concept of 'weighted share of shops'. Rather than the binary model of old, many more competitors are considered, with their impacts allocated weightings. Experts agree those extra competitors in the consideration set can "materially impact the odds of the deal going through without very punitive disposal terms precedents," says Bernstein's Monteyne.
That new "reality" is crucial to Coupe's confidence in the chances of the deal going through. "We will engage positively in the process and we go into this with our eyes wide open but we believe it will come to the right answer for customers," he says.
Are stores the only concern for the CMA? Not necessarily. Online is also considered in the CMA's methodology. And one area of investigation could be the dominance of the combi on the toys front. Sainsbury's has only just acquired Argos, and so far it appears to have been relatively successful, gaining it instant and sizeable share in toys, alongside a number of GM markets in which it underindexed, while better utilising space in its stores. With a merger Asda plans to install Argos outlets (and the demographic fit is better than in the case of Sainsbury's), but its combined share of the toys market in particular may be a problem, particularly when the Argos proposition is coupled with Walmart's buying power.
Sainsbury's and Asda will argue that, with Amazon set to overtake Argos as the UK's biggest toy retailer by 2020, the merger would redress the balance. And latterly the CMA has been alive to the online challenge. But as Chisholm says: "It's not just how much people are buying online or how many hours people are online. It's much more about the particular product or service. What is the buyer behaviour you see? What do they see as the alternatives?"
That's the challenge for the CMA. Calculating competition issues in a complex and fast-evolving market, across countless categories, is likely to take up to 18 months, Sainsbury's estimates – longer than the Tesco-Booker merger.
Sainsbury's and Asda have asked the CMA to "fast track" the investigation by dispensing with the normal procedure of pre-investigation talks and going straight to phase two.
So, it's done its homework, it's ready for the CMA, and so are competitors.
As a rival supermarket CEO puts it: "Let the fun and games begin."