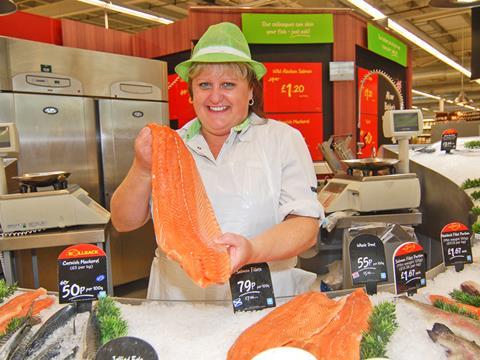 A "fragmented" chilled fish sector is set for a prolonged period of supplier consolidation in the wake of the Sainsbury's-Asda merger, with supermarket business worth up to £600m potentially up for grabs, according to industry sources.

The UK's top nine supermarkets currently source their own label chilled fish from a diverse list of more than 20 suppliers, according to Grocer research based on industry data, with retailers such as Tesco, Sainsbury's and Waitrose buying seafood from as many as nine, 11 and 10 separate suppliers.

Retailers were facing "significant" cost pressure due to currency issues, according to one seafood sector source, while the future makeup of both Sainsbury's and Asda's seafood supply chains after their merger was unclear.

These conditions meant a consolidation of suppliers was "inevitable", said another source.
"The chilled fish ­sector is worth about £1.9­bn in the UK, but it's a hugely fragmented supply picture," the source said. "The top five suppliers only account for about 50% of the market, so there could be further opportunities for those big players, representing between £500m and £600m, as they can offer retailers more scale. The suppliers to miss out could be those in the middle market which don't have the scale of the big boys."

Consolidation could also stretch to M&A within the supply base, suggested Rabobank senior seafood analyst Gorjan Nikolik, who added the sector was about to experience a second wave of consolidation, following huge deals to acquire the likes of Findus and Birds Eye by Nomad in 2015.
"That first wave was largely defensive and fuelled by private equity money, but the sector is in a much better position this time around," Nikolik added.
Young's sale
With Hilton Food Group acquiring Seachill last year and Young's Seafood currently up for sale, it was "a good time to invest". Demand was picking up, capital was cheap while consumer and business confidence was high, he said. "So one could assume this will lead to larger seafood groups supplying the supermarkets."
A third industry insider agreed rationalisation was "inevitable" across the supply chain, with the Sainsbury's-Asda merger also having the potential to disrupt the sale of Young's, which supplies most of Asda's chilled own label fish but lost a £100m Sainsbury's contract in 2015 to Norwegian seafood giant Marine Harvest.
With the owner of Young's preparing an information memorandum for its sale later this month, the timing of the proposed Asda/Sainsbury's deal was "not ideal", the insider suggested "as it created a lot of uncertainty" over whether Young's would retain any of the merged retail giant's future business.
The merger also raised additional questions over the continuing presence of fresh fish counters within both retailers, the source added. "It's quite a big undertaking to run that many counters from both an investment and skills perspective, so I wouldn't be surprised to see some counters, particularly in Asda, replaced by pre-packed fish."