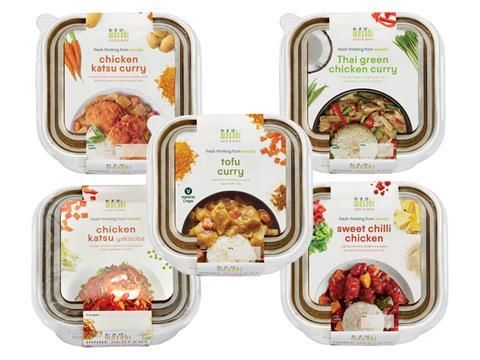 Sainsbury's is to launch a range of five ready meals from Japanese restaurant chain Wasabi.

The exclusive selection will be made up of some of the restaurant chain's most popular dishes - Sweet Chilli Chicken (available at 432 stores), Thai Green Curry (514 stores), Chicken Katsu Curry (368 stores) and Chicken Katsu Yakisoba (245 stores).

Sainsbury's is also offering plant-based option Tofu Curry - chunks of stir-fried tofu in a mild curry sauce with onion, carrot and potato, served with cooked long grain white rice. It will be on sale at 245 branches.

The new lines will be available in Sainsbury's supermarkets and online from 30 January, priced at £4 each (450g).

Products in the Home Bento range are made using the same fresh ingredients as in Wasabi's stores to ensure premium restaurant-quality food.
"We know our customers increasingly want restaurant-quality food to enjoy in the comfort of their home, and with many now opting to stay in for an evening meal rather than go out, we're confident Wasabi's Home Bento dishes will be a hit. They offer the high-quality Asian flavours and ingredients you'd expect from the restaurant, without the hassle of cooking from scratch," said Sainsbury's ready meals buyer James Lydall.

Wasabi managing director Frederic Lluch added: "We are delighted that our Home Bento meals will be available exclusively at Sainsbury's. Our bento is always a really popular choice with our customers within our own Wasabi stores, and to now offer the same restaurant-quality product from our ready-to-heat range for Sainsbury's customers is really exciting. We're thrilled that shoppers will now be able to enjoy their favourite Wasabi dishes in the comfort of their own kitchen."

The Wasabi Home Bento range is the latest from a restaurant chain to be sold in Sainsbury's stores. It partnered with Latin American chain Las Iguanas to launch a selection of Mexican, Brazilian and Peruvian ready meals last October, alongside existing names such as Nando's, Gourmet Burger Kitchen and Pizza Express.