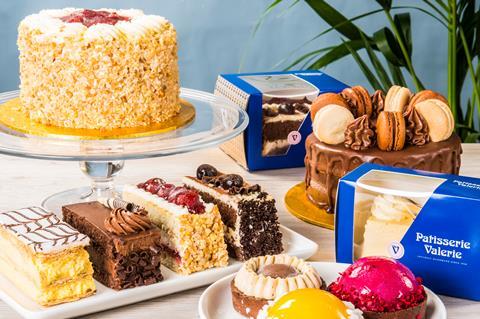 Sainsbury's and Patisserie Valerie have teamed up once more with a deal that will see Patisserie Valerie cakes sold at 250 of the supermarket's bakery counters.
The selection consists of Patisserie Valerie's 14 top-selling products, including the Salted Caramel & Chocolate Bombe, Strawberry Gateau and Baked Cheesecake Slice, alongside celebration cakes such as Triple Chocolate Delight.
Its six celebration cakes, which serve between six and 20 people, can also be pre-ordered and collected in-store through Sainsbury's Food to Order service from December.
The cakes range from £3.95 to £32.95 and are being added through a phased rollout which began this week.
Sainsbury's previously linked up with Patisserie Valerie to trial stocking its products at 12 stores' bakery counters in 2017. This was extended to a total of 70 in 2019.
However the tie-up came to an end shortly after when the baker's parent company Patisserie Holdings fell into administration.
Patisserie Valerie was then acquired from administrators KPMG by Irish private equity firm Causeway, which acquired the bakery business in February 2019 for £13m.
A spokesman for Patisserie Valerie confirmed its CEO James Fleming approached Sainsbury's about rekindling their relationship and the new range was planned and launched "in a matter of months".
"Both Patisserie Valerie and Sainsbury's are brands that are much loved and trusted by UK consumers," said Fleming. "In bringing our range exclusively into Sainsbury's stores and online to their customers, we are excited to build on that trust with our high-quality handmade cakes and patisserie."
"It was important to us that the offer was exactly the same as the menu served in our cafés and we have worked together as a team with Sainsbury's to ensure that is possible, without any compromise to the visual excitement and eating enjoyment of all our products. The proof of this pudding is very much in the eating and we can't wait to hear how the team at Sainsbury's and the customers in turn react once our handmade cakes are in store."
Ollie Smart, in-store cake buyer at Sainsbury's, added: "We're always looking for ways to offer our customers new and innovative products. We are really pleased to be offering Patisserie Valerie's premium handmade cakes in store. The exclusive range of delicious patisserie and celebration cakes are a great solution for special occasions and gifting, or indeed simply to enjoy at home."