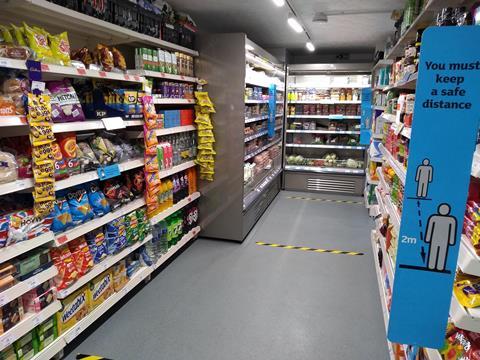 Sainsbury's is set to open its fourth 'Neighbourhood Hub' concept store next month, The Grocer can reveal.
The supermarket is rolling out its new store format to a branch in Melbourne, Derbyshire, on 8 March.
It has opened a temporary pop-up shop nearby while a Sainsbury's Local on Derby Road is fitted out as the new 6,000 sq ft Neighbourhood Hub.
Sainsbury's Neighbourhood Hub stores are intended to offer a blend of convenience with the potential for bigger shopping missions, allowing customers to make fewer journeys to the nearest full-sized supermarket. They offer more meat-free and plant-based ranges than a typical Sainsbury's Local, as well as petcare, household, cosmetics and beauty lines. They also have an Argos collection point, coffee to-go and fresh juicers.
The new Derby Road hub store will also get an additional staffed till, bringing the number to three.
Sainsbury's opened two Neighbourhood Hub stores last year in Waltham, Hampshire and Midhurst, West Sussex. They followed a pilot in Woodhall Spa, Lincolnshire, in 2019. The supermarket plans to open 18 over the next three years.
Sainsbury's has repurposed a former pharmacy unit for the nearby temporary pop-up store and stocked it with a range of 500 grocery staples.
"We're pleased to be introducing our new pop-up shop in Melbourne and we think local customers will value the convenience of it while we upgrade their store," said Sainsbury's property director Patrick Dunne.
"The customer is at the heart of everything we do, and we always strive to minimise disruption caused by building or refurbishment works to them."