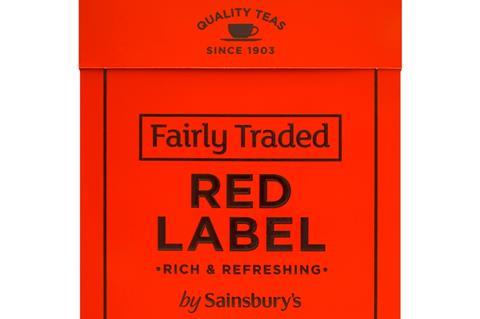 Sainsbury's is to make the packaging for its own-label teabags plastic-free within six months.
It is rolling out plant-based packaging for the range and removing plastic film wrap from 11 items that currently use it.
The supermarket is currently trialling the environmentally friendly packaging and plans to roll out the revamped range to all stores by June.
Its current own-brand teabags are made up of 75% natural fibres and 25% oil-based plastic sealing material polypropylene. This sealing ensures the teabags remain intact and that tea leaves do not seep into the cup once hot water has been added.
Sainsbury's is now testing a more sustainable plant-based plastic called polylactic acid, created from the sugars in corn starch, cassava or sugar cane. It will make its own-label teabags industrially compostable and able to be disposed of in kerbside food or garden waste bins or general household waste bins.
However, its Organic Black Tea SKU will not make the switch, as the material is not currently permitted to be used in organic products.
The removal of the outer plastic wrapping from 11 products will save over 5.3 million pieces or 16.2 tonnes of plastic a year.
The changes come as part of the retailer's efforts to halve its use of plastic packaging by 2025, and the company's pledge to become net zero in its own operations by 2040 alongside other retailers as part of the BRC's Climate Change Roadmap.
"This extensive rollout of our new teabags is another example of how we are looking to implement new, innovative products that will reduce the impact our business has on the environment," said Claire Hughes, director of product, packaging and innovation at Sainsbury's. "Our move towards plant-based teabags has required significant time and multiple trials to ensure our customers receive the same great quality teabag and we look forward to the rollout in stores this year."
It follows a 6% year-on-year rise in the supermarket's tea sales.
It's not just retailers cracking down on plastic in teabags. Last July saw fmcg giant Unilever's PG Tips brand move its entire retail range into plant-based bags.