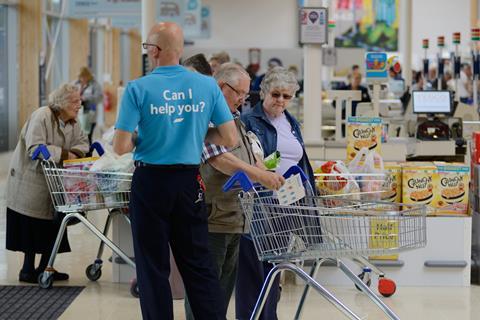 Supermarket bosses are hoping to co-operate with rivals to keep food supplies going in case stores are forced to close, amid fears of a staffing crisis due to coronavirus.

BRC CEO Helen Dickinson confirmed talks had centred on relaxing competition laws to allow rivals to co-ordinate to keep a minimum number of stores open.

The emergency plans come as supermarkets are struggling to cope with a huge spike in demand from stockpiling.

Retail leaders today repeated a call for calm after shopper stockpiling saw many shelves left bare in stores across the UK.

Products including fresh meat were impacted, as well as others such as pasta, rice and butter, which forced supermarkets to ramp up restrictions on food.

Aldi became the first to announce restrictions on all products, telling customers that because of "unprecedented demand" it was introducing a limit of four units on all items.

With health secretary Matt Hancock yesterday confirming there are plans for over-70s to be asked to self-isolate for up to four months, retailers are looking at how to prevent more shortages amid fears of further stockpiling.

However, supermarket bosses have warned the likelihood of major workforce shortages is even more of a threat to supplies than panic buying, with retailers planning for the prospect of many supermarket staff and members of the supplier workforce being off sick.
Dickinson told the BBC yesterday that rival supermarkets co-operating to ensure a minimum number of shops stayed open was "one of a number of things we've talked about in the past few weeks".

She added: "People co-ordinating would require a suspension of competition law.

"It is an example of something that may be required in the future. The situation is evolving on a daily basis. We're all getting used to the fact that this is how we're going to be operating."

The Grocer revealed on Friday 13 March that a government team is looking at how competition laws can be used to help retailers cope, with ministers already having agreed to temporarily axe delivery curfews and extend driver hours.

Among other plans being discussed are proposals for BEIS to relax Sunday trading laws to help cope with the unprecedented demand.

Temporary suspension of competition law would also allow supermarkets to share data with rivals and the government about the state of food suppliers.

Dickinson paid tribute to supermarket staff and suppliers, who she said were working tirelessly to try to meet demand.

"There are hundreds of thousands of people who have been working really, really hard to really gear up," she said.

"This is having Christmas in the middle of March."

Today a joint letter from the major supermarkets will run in national newspapers, urging customers to be more considerate.
Supermarkets including Tesco have sent this message to customers: we are doing everything we can to ensure you and your families have the food and essentials you need. We ask everyone to shop as they normally would - there is enough for everyone. pic.twitter.com/v655SKv80i

— Tesco News (@tesconews) March 15, 2020
It reads: "We would ask everyone to be considerate in the way they shop. We understand your concerns but buying more than is needed can sometimes mean that others will be left without. There is enough for everyone if we all work together.
"Together we can make sure we are looking out for family, friends, neighbours. Together we will care for those around us and those who are elderly, vulnerable or choosing to remain at home.

"We are doing all we can to rise to this challenge. Serving you and keeping you and everyone who works with us safe will always be our priority."

Announcing its restrictions on Twitter, Aldi said: "As we have seen an unprecedented demand across our range, we will be limiting customer purchases to four units on all products to ensure all of our customers have an opportunity to purchase them.

"We thank you for your patience at this time."