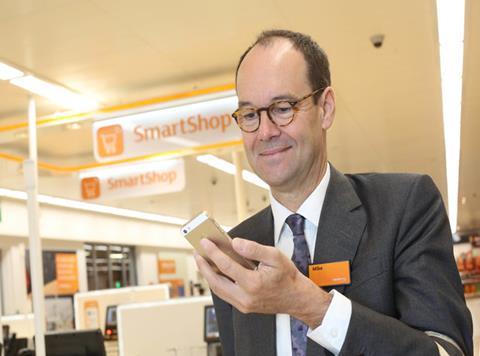 Sainsbury's will roll out its in-store shopping app more widely later this year, its digital head of product Fabrice Khullar has revealed.

The SmartShop app would go out to a "much bigger" audience over the course of 2017, Khullar revealed at the Internet Retailing Expo in Birmingham yesterday.

The app has made slow progress since the trial initially began in 2015 and is currently only available in 10 stores, where shoppers can use it to make lists, scan their items and pay at dedicated card-only checkouts. Both Tesco and Waitrose have already extended their in-store shopping apps across all stores.

Khullar revealed the Sainsbury's rollout had been deliberately slow to make sure the technology was right.

"Customer adoption and engagement depend on the stability of the experience and it's key to earn the trust of users before dazzling anyone with new capabilities," he said.

The app had already yielded positive results in the trial areas, added Khullar.

"It's driving engagement among shoppers and it's driving operational efficiencies in store through the use of self checkouts. We're also starting to see an impact on customer loyalty," he said.

Content delivery network Akamai, whose clients include Tesco, said in-store mobile apps would become increasingly important to grocers.

"Retailers that offer a great experience on mobile will see a direct impact on revenues," said Enrique Duvos, director of product marketing and enablement EMEA at Akamai.

Being able to target customers with personalised offers in store should drive sales, Duvos explained, and retailers could also gain significant data from tracking shopper journeys.

"It's very powerful to be able to start guiding the customer through the aisles and cross-sell to them in a smarter way," he added.