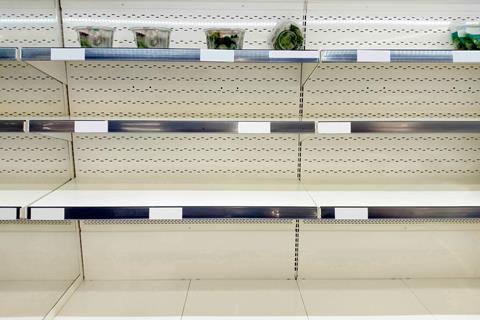 Supermarkets are facing the threat of panic buying as consumers attempt to stockpile amid growing fears of a major outbreak of coronavirus in the UK.

As the prime minister chaired an emergency Cobra meeting this morning to draw up plans to try to slow the spread of the virus, there were reports of a surge in online food orders, along with predictions of empty shelves and a "rationalisation" of food being sold to try to keep supplies available.

However, experts told The Grocer they believed the UK food supply chain was resilient and would stand up to the test posed in the next weeks and months.

"If a major outbreak happens, that will quickly lead to panic buying, empty shelves and food riots," said Bernstein senior analyst Bruno Monteyne.

"But the industry has ready-made plans to deal with that: plans are surely being drawn up with suppliers to rationalise product ranges and transition to a 'feed the nation' status when necessary."

He added: "The objective isn't to scaremonger. On the contrary: the industry has plans to deal with this. Yes, it will be chaotic (and expect pictures of empty shelves), but the industry will reduce complexity to keep the country fed.
"Sales will actually be resilient (as food out of home shifts to in-home food) but profits will take a hit as retailers will be reluctant to pass on the temporary operational costs of dealing with the disruption."

However, Bernstein said it expected the crisis to wipe £1.2bn off the sector's operating profits.

FDF CEO Ian Wright said: "The FDF is in regular dialogue with the government and its agencies on how the food and drink industry should react to the spread of Covid-19.

"Our job is to ensure that our members and others across the sector are fully informed of the most up-to-date guidance on the outbreak. It is also our role to brief the government on emerging impacts on food and drink supply. At this stage supply chains have experienced disruption but there is no evidence of significant disruption to food supplies. UK food and drink manufacturers have robust procedures in place."
The Daily Telegraph reported there had been a surge in online orders at the major supermarkets.

Ocado has told customers to make their orders further in advance as households began stockpiling food and basic health products.

As the number of confirmed cases of the virus jumped by six in just 24 hours, the online retailer said it had been experiencing "exceptionally high demand" with customers placing "particularly large orders". Lidl also said it had seen a spike in sales of durable products and disinfectants.

Shore Capital analyst Clive Black told The Grocer: "We do expect coronavirus to become more evident in the UK but the extent to which it stops people doing their shopping in the supermarkets or online - which could even get a boost - we don't believe will be wholly disruptive.

"The UK food model is very focused on short-shelf life products, the majority coming from Europe. As an industry, food is much less exposed to coronavirus than those such as pharmaceutical and automotive, and the impact of food supply chains is limited.

"From a Tesco and Asda point of view I would be much more worried if I was their clothes buyer than if I was their food buyer."

Ged Futter, director at The Retail Mind and former senior buyer at Asda, said he believed it would be very difficult for consumers to stockpile against the outbreak.

He added: "There are a lot of myths about stockpiling: one of the key things is that in reality most consumers simply don't have the space to stockpile for any more than a few days or weeks. Many have just a small freezer compartment.

"I remember when we faced the fuel strikes, what actually happened was people were stocking up with products like long life milk, and flour and tins. It is limited what the average consumer can do when it comes to fresh and frozen food."

Futter added: "Retailers should already have a good idea of the impact of coronavirus from their no-deal planning. They will know where the surge in demand could come and where those products are coming from, so which ones could be hit because of supply chain problems from countries affected. This will help them plan for any food shortages.

"The last thing retailers will want to talk about is rationing. As soon as you mention rationing it becomes a self-fulfilling prophecy and the food equivalent of a run on the banks."