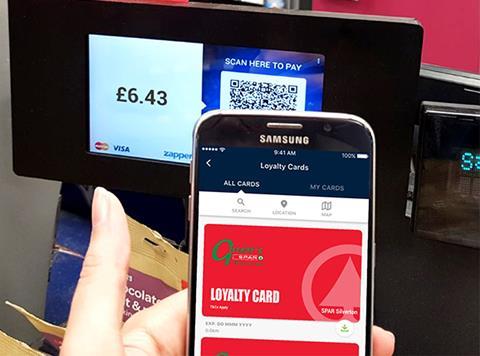 Zapper's quick mobile payment and loyalty app has rolled out to 20 Gillett's Spar sites in the South West as the first step to availability in Spar stores throughout the UK.

The app enables shoppers to scan a QR code at the till and pay using their mobile. The app processes payments, voucher redemption and loyalty card updates within seconds.

The latest signing comes after a six-store trial at the Appleby Westward company-owned branches last autumn in Plymouth and Exeter.

Zapper is now available to use at more than 1,000 convenience stores, including those trading under Nisa, Premier, Londis, Family Shopper, Best-one and Costcutter.

A Zapper spokeswoman said the plan was to roll the app out further to all 60 of Gillett's stores.

Callum Fairnie, store manager at Gillett's Spar in Mote Park, Saltash, said the app encouraged his shoppers to come in more often to earn loyalty rewards.

Zapper said it was working on technical integration with other Spar wholesalers' EPoS so that it could be launched throughout the rest of the UK with Spar.

"We are talking to the different areas and it's up to each of them when they take it on. We are looking to work with all of them," the spokeswoman said.

Zapper UK retail director Jon Birt said: "We have a great relationship with the retailers and were delighted by the results from the initial six-store launch.

"It's great to see shoppers in the South West demanding to pay with their mobile so they can earn their loyalty points and exclusive vouchers with Zapper."

The app is free to download from Android, iOS and Windows app stores.