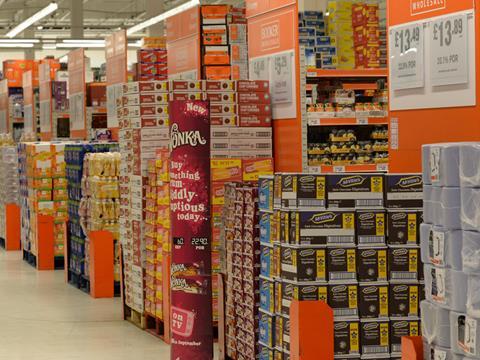 The City was unmoved by a healthy first half at Booker as investors awaited the preliminary decision by the CMA on the £3.7bn proposed merger with Tesco due by the end of the month.

Pre-tax profits in the 24 weeks to 8 September jumped 9% to £88m as revenues increased 2.5% to £2.6bn. Like-for-like sales in the half rose 2.7%, with the continued decline in tobacco sales, down 8.7%, dragging on non-tobacco growth of 7.7%. Booker said the drive into catering was working, with like-for-like sales to caterers up 8.1%; online sales increased 11% to £560m.

Shares barely changed on Thursday, edging up 0.2% to 205.6p. The stock is 17% higher than at the start of 2017, spiking in January to 213p with the Tesco news. "The overall growth is very solid despite the continuing slump in tobacco sales," retail analyst Nick Bubb said. "But the company hasn't got much to say for itself given the shadow of the CMA and the Tesco deal."
HSBC analyst Andrew Porteous said Booker was helped by the weather and the return of inflation, but the growth was underpinned by the consistent success of its strategy. "It "continues to share the benefits of its competitive scale advantages with customers, offering lower prices, better service and broader ranges. This has seen it gain share consistently."

WH Smith hiked its annual dividend by 10% to 48.2p a share after it increased pre-tax profits 7% to £140m in the year 31 August. The challenged high street division held its operating profit at £62m, despite a 5% decline in like-for-like sales thanks to good margin and cost control, while the lucrative travel division has overtaken the traditional stores in revenue terms for the first time. WH Smith also announced a further share buyback of up to £50m. Shares tanked 2% in the morning as investors took a profit, but stabilised to parity later in the afternoon at 2,070p.

Jonathan Pritchard of Peel Hunt said shares were now fully valued. "WH Smith is a retailer to own in tough times, but when the retail sun starts to come out (and things will at worst stabilise in FY18) there are better options," he added.

Reckitt Benckiser shares are up 4.5% this week to 7,142p after US pharmaceutical giant Pfizer put its consumer health division, which includes ibuprofen brand Advil, on the block. Analysts at Jefferies said it would be a compelling deal for Reckitt but competition was likely to be intense.

"Pfizer Consumer would be a hugely attractive and synergistic asset for RB," Jefferies added. "Advil would confer immediate leadership of over-the-counter analgesics in the US, with a 13% share per Nielsen, in a market where the barriers to entry for Nurofen have been insurmountable."

However, any deal would be a "financial and managerial stretch, just at a moment when RB need to work on rediscovering their mojo".