Supermarket share prices recovered in early 2015, but City investors remain unconvinced the pain of last year is over.
Morrisons shares have rebounded by 11% since last week's announcement about CEO Dalton Philips' impending departure, but data supplied to The Grocer by financial information firm Markit shows shorting of Morrisons stock has also risen by 11% so far this year.
On 7 January, when Morrisons' share price was 171.4p, 11.9% of its stock was on loan, but this had climbed to 13.2% by 20 January as the share price rose to 193.4p.
The amount of Morrisons stock on loan is heading towards the high of 14.2% recorded in November – a sharp rise from the 4.2% on loan in March 2014.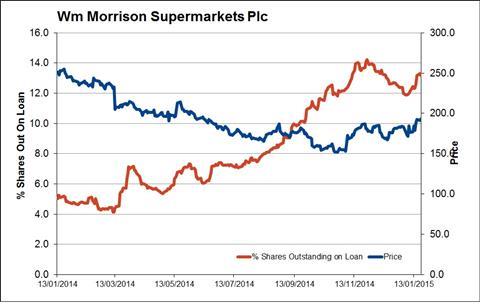 Markit data also shows a similarly dramatic long-term rise in short-selling of Sainsbury's shares, rising from just 4.3% a year ago to a peak of 18.6% in November, making it the FTSE's most shorted stock. Shorting of Sainsbury's shares has remained flat so far this year (at 14.7%) as its share price has increased by significantly less than its rivals.
Short-selling of Tesco is also picking up, albeit from low levels, as its share price recovers. Tesco had just 1% of stock on loan in early December 2014, but this has now risen to 2.3%, having peaked at 2.8% just after Christmas. Tesco shares are up by over 22% so far in 2015.
Short sellers borrow stock in expectation the price will fall so they can profit from the price difference when they subsequently close the short position
The increased short-selling of Tesco and Morrisons is a strong indicator that investors have doubts their respective share price rallies can last.
Further evidence of sustained investor concern over the 2015 prospects for the grocery sector can be seen by the world's largest investor Blackrock increasing its short position on a basket of the sector's stocks so far this year.
So far in 2015, Blackrock has increased the amount of shares it is shorting in Morrisons, Sainsbury's, Dairy Crest, Thorntons, Majestic Wine and Marston's according to publicly published data from the FCA. This portfolio of stocks has risen by a collective 4.8% over the past three months, just behind the 5.6% growth of the FTSE 100 over the same period.
However, hedge funds banking on falling share prices have a mixed record when it comes to previous bets within the grocery sector.
Until recently, WH Smith was recently the most heavily shorted stock on the FTSE, with the FCA data (which only details short positions worth over 0.5% of a company, meaning the total proportion of shares on loan is typically lower than the more granular Markit data) recording a short position of 12.1% in mid-October. However, WH Smith shares have soared by 32% over the past year and by 36% since just 15 October. FCA-recorded short interest in WH Smith has dropped to a current level of 8.4% - a decline of over 30% since October as investors cut their losses.
Similarly, Ocado had as much as 16.2% of its stock on loan in March 2013, according to the FCA, but has seen its share price more than trebled (up 209%) since that date. Short interest in Ocado has edged back upwards over the past six months to stand at 6.3% [FCA].