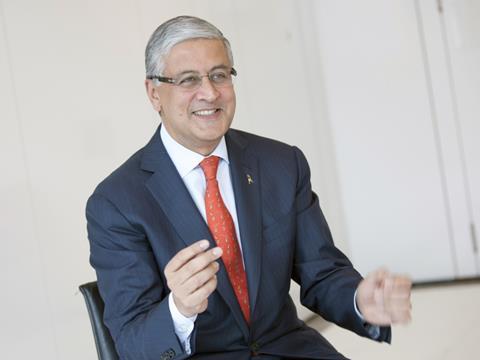 Diageo (DGE) may be fighting a global drop in sales volumes, but CEO Ivan Menezes seems to have placed a bet on the spirit group's share price rising after investing over $1m in Diageo shares.
Diageo's regulatory filings show that Menezes bought 8,600 American Depository Shares in the firm on Friday 6 February at US$116.53 each. The $1m (£657k) share deal takes Menezes total holdings to 749,517 shares – worth £14.25m at today's price of 1,901p.
Two weeks ago the spirits giant announced first half results that failed to hit market sales expectations of £6bn (falling just shy with a 0.1% decline to £5.9bn). The firm suffered a dramatic slowdown in Asia Pacific as volumes collapsed in China partly due to a government crackdown against spending by officials.
However, Menezes insisted were "solid", noting the improving sales trends in the second quarter.
The shares initially rose 2.2% higher to over 2,000p to record a new 52-week high of 2,049p on 29 January, but have since dipped by 3.5% to their current level of 1,901p.
Analysts at Canaccord Genuity reiterated a 'sell' rating with a price target of 1,465p on Friday. But broker Jefferies was more supportive, maintaining its 'buy' recommendation with a price target of 2,100p.
Jefferies wrote: "We see nothing to dent our confidence in an underlying recovery, led by the USA, supported by fast-improving cash generation. History shows that when profit rebounds arrive at Diageo, they tend to arrive quickly and vigorously. With the next one overdue, we stay on board."
Diageo: Latest director share deals
| TRADED | ACTION | NOTIFIER | PRICE | AMOUNT | VALUE |
| --- | --- | --- | --- | --- | --- |
| 06-Feb-15 | Buy | Ivan Menezes | 1,910.89p | 34,400 | £657,346.77 |
| 30-Jan-15 | Buy | Alan Stewart | 1,970.00p | 1,500 | £29,550.00 |
| 20-Jan-15 | Buy | Ivan Menezes | 1,788.07p | 123 | £2,199.32 |
See a full list of director deals across the grocery sector at www.thegrocer.co.uk/finance