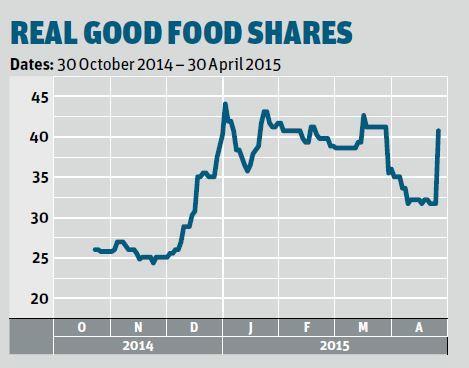 Shares in under pressure AIM-listed Real Good Food jumped by nearly 30% to 41.5p after France's Tereos Group agreed to buy its Napier Brown sugar business.

The deal looks like a win-win for everyone as Real Good Food gets rid of a struggling business hit by low EU sugar prices, while Tereos - the world's fifth-largest sugar producer - significantly grows its presence in the UK, which is "a strategic market for French producers", Tereos said.

Real Good Food shares had fallen by 29% from February on concerns over the continually weak performance of its sugar business, but the disposal of Napier Brown will enable it to focus on premium and growth areas in its remaining ingredients, jam and bakery businesses. House broker Daniel Stewart commented: "The outlook is much improved. The rest of the group performed strongly, with Renshaw, the cake decoration business and Haydens Bakery, the high value-added hand-finished patisserie and desserts business, in particular, performing well."

The City was less kind to Thorntons, which issued a downbeat trading update on Wednesday. A strong retail performance at Easter and Valentine's Day wasn't enough to make up for a disappointing Mother's Day, with retail sales falling 5.4% (0.1% up like-for-like). UK commercial sales declined 6.1% because of fewer orders from one specific customer, which analysts believe to be Tesco. Its shares plunged by more than 12% in early trading, falling to as low as 71.5p in the morning before recovering to end that day 0.9% up at 83.75p. The chocolatier slipped again on Thursday morning, trading 4.5% down to 80p.

Elsewhere, Greggs was boosted by positive trading and a special dividend payment, up 9% by Thursday lunchtime to 1,175p. Mondelez rose 5.3% in the US on Wednesday to $38.70 despite first-quarter revenues falling 10% to $7.8bn (£5bn), thanks to adjusted gross profit increasing by 5.5% on a constant-currency basis and margin rising by 90 basis points to 38% as the Cadbury owner increased prices.