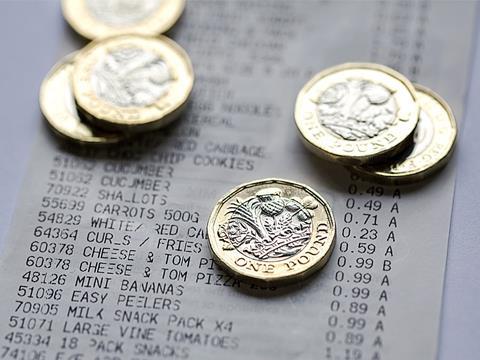 Supermarket shares were under pressure even before the Amazon/Whole Foods Market deal hit the headlines, but the market's negative stance on the grocers is increasingly at odds with the solid growth figures the sector is churning out.

This week was the turn of Sainsbury's, which overshot first-quarter market expectations on Tuesday but has still seen its share price fall by over 12% since the end of May. Grocery growth of 3%, retail like-for-like sales growth of 2.3% and total retail sales growth of 2.7% were all comfortably ahead of estimates. However, shares rose just 0.6% to 250.4p on Tuesday before being caught up in a consumer sell-off on Thursday morning to trade 2.3% down for the week at 246.2p.

Its results were complicated by its decision to combine Sainsbury's and Argos sales for the first time, meaning like-for-like comparisons with previous releases were more difficult for the market to extract. Also, this year's later Easter and Mother's Day exaggerated first-quarter sales growth.

Retail Vision director John Ibbotson still called the numbers "little short of a Lazarus moment", arguing the results showed "Sainsbury's no longer needs to hide behind Argos's success". Bernstein added: "This release has none of the 'challenging market conditions' caveats from management. Sainsbury's has improved volume growth while improving their price position."

The fly in the ointment seems to be more worries over the UK consumer environment, with Sainsbury's potentially more affected by a downturn in non-essential purchases given its Argos ownership. Jefferies notes: "We remain concerned by the ongoing lag in the core food business, as well as the significant disruption a more downbeat UK consumer could represent for Argos."

Elsewhere, Reckitt Benckiser shares fell 2% to 7,543p on Thursday after it warned sales had been hit by last month's global cyber-attack. The consumer goods giant said like-for-like revenues for the Q2 2017 would be 2% lower than a year ago because of its impact. Liberum said even this sales forecast "may still prove ambitious".