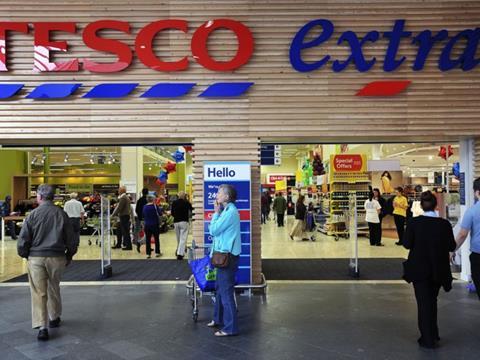 The listed UK supermarkets experienced heavy share price falls this morning after Tesco's shock profit warning.
Tesco opened nearly 8% down at 227p this morning on the news it is to slash its dividend payment by 75% and its cut to forecasted full-year profit to £2.4bn-£2.5bn.
Although the severity of the dividend cut took the market by surprise, a dividend reduction had been widely expected and Tesco shares crept back up through the morning to 234.7p - 4.7% down on last night's closing price of 246.3p.
The shares hit their lowest point in over a decade in early trading, falling as low as 223.8p before the recovery.
Tesco's woes infected the rest of the grocery retailers as investors viewed many of the key issues facing the UK's largest supermarket as industry-wide problems.
By midday, Morrisons was 4.3% down to 178.7p, having previously made strong gains through the week after Kantar Worldpanel figures hinted at a turnaround in sales performance.
Sainsbury's fell as low as 284.6p in early trading, before recovering back to 294.6p by midday – 3% down on yesterday's closing price of 303.5p.
The negative sentiment also affected Marks & Spencer (which fell 2.1% to 429p in morning trading). Ocado continued its dramatic share price fall yesterday by dropping a further 3.8% to 326.4p by lunchtime.
Tesco, Sainsbury's and Morrisons were FTSE 100's top, third and fifth-most traded stocks respectively this morning. The volume of Tesco trades was more than double that of the next highest, Lloyds Banking Group.