One of our 10 Things You Need To Know About… Soft Drinks
Brits are more likely to splurge on sugary soft drinks in restaurants and pubs than in grocery, The Grocer can reveal.
Low and no-sugar cola has a much smaller share of foodservice & pub trade sales compared with the grocery & impulse market, exclusive data by CGA and Nielsen shows.
Pepsi is a great example of this. As one of the standout soft drinks successes in recent years, Pepsi Max holds a 55% share of the brand's sales in grocery, and is growing at 10.3%. However, it accounts for just 7.8% of its sales in foodservice. What's more, full sugar Pepsi is on the rise.
The article continues below the infographic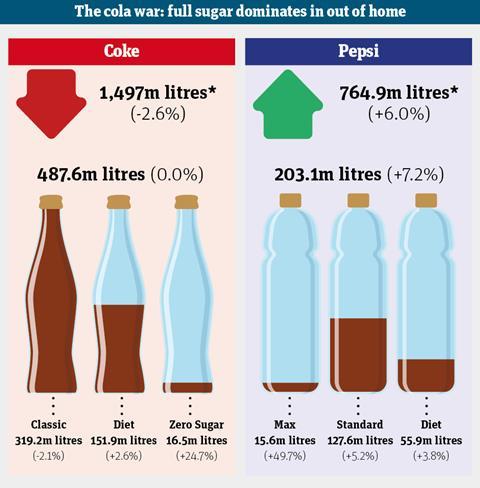 "I wouldn't shy away from the fact that there's growth in sugar, but it's not the majority of it," says Nigel Paine, commercial operating director at Britvic. "The Pepsi brand overall is continuing to gain traction away from home in new environments, in restaurants and so on. The big one for us was signing up Subway [previously a Coke contract] last June. That's an enormous amount of people getting to taste and sample the brand out of home and then looking for it in grocery."
However, Britvic insists the difference in on and off trade performance is not down to consumers splurging while out and about, but instead that Pepsi Max has only been promoted in the on-trade for the past year, leading to the 49.7% rise in its sales albeit from a smaller base.
A similar story can be seen in Coca-Cola but to a lesser extent, although, unlike Pepsi, the full-sugar variant is in decline. This, CCEP insists, is down to consumers switching to Coke Zero Sugar which is in growth in both the on and off-trade. Following a reformulation last year, sales surged by 14.8% and 24.7% in grocery and foodservice, respectively.
Consumers, believes Jo Sykes, marketing director at SHS Drinks, are more likely to treat themselves out of home. "Many consumers are creating a credit/debit system whereby they opt for 'healthier' choices during the week, particularly at lunchtime, then treat themselves at weekends, in the evenings and on social occasions when they regard sugar content as less of an issue," she says.
Despite the rise in Coke Zero Sugar, Pepsi Max and diet variants of Coca-Cola and Pepsi, there's still a long way to go before low and no sugar varieties can outperform the full sugar ones in foodservice and pubs, and even more before they can rival the success seen in grocery.
Previous article: Mix it up! Is there potential for dark mixers?
Next article: A nice brew: our pick of tea-flavoured soft drinks