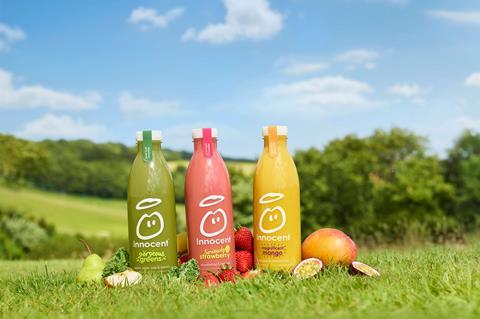 Innocent is moving beyond Europe for the first time, rolling into Japan this week and also preparing to launch in China.
The business made its Japanese debut in Tokyo yesterday (17 September) with versions of its Seriously Strawberry, Magnificent Mango and Gorgeous Greens smoothies, landing in 3,000 7-Eleven stores as well as other retailers. It follows a year of preparation by an Innocent team in Japan's capital.
The trio of fruit drinks will then become available in Shanghai in the first quarter of next year, as Innocent targets 10 key cities in Asia as part of a long-standing expansion plan.
"Fundamentally, we're doing the same products there that we launched here 19 years ago," Nick Canney, Innocent's European MD, told The Grocer.
"We're sending all the normal ingredients we use in the west to the east. They're shipped chilled, and we're bottling them very close to the market – because it's clearly too far away to be shipping smoothies from western Europe."
The Japanese smoothies are blended and bottled by a third party in Tokyo, while the Chinese drinks will be made by a different supplier in China.
As a result of its move into Asia, Innocent was "beginning to create a supply chain out there, which is very exciting" Canney added.
There was also great sales potential for the brand, he said. "You've got millions and millions of affluent and health-conscious people in that part of the world. The brand should really flourish there."
In Tokyo, there was "an amazing population of stores like 7-Eleven and FamilyMart. People are working hard, and they want a convenient, healthy drink," he added.
The Asian launch comes with mainland Europe accounting for 60% of Innocent's value sales.
The brand is preparing to start work on a £200m, carbon-neutral manufacturing facility in Rotterdam to consolidate production, which is currently carried out in a number of EU countries.