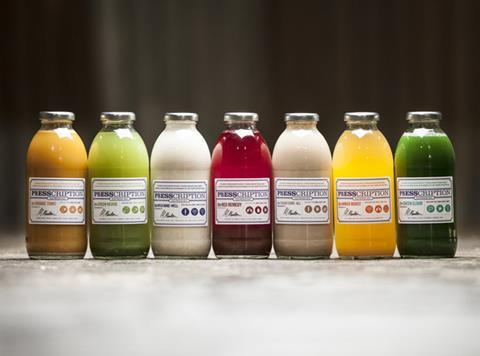 The former owners of Minton Spring Water are seeking supermarket listings for their new Presscription brand of juices and nut milks.
Already available direct to consumers through the brand website, the range comprises six 100% raw, organic, unpasteurised and cold-pressed juices, two nut milks and two booster shots. Each 500ml glass Presscription bottle contained more than 1kg of organic produce, said the supplier.
The brand has been launched by Mitch Minton, whose family sold their spring water business in 2012.
"This is an exciting new venture for the Minton family," he said. "Presscription juices meet the burgeoning demand for drinks that deliver health, fitness, nutritional and beauty benefits. We believe the brand will quickly find success in the UK by providing a unique offering for British consumers looking for the best quality products in the juice & smoothie category."
Presscription delivers throughout the UK, with next-day delivery outside London and evening delivery inside the capital.