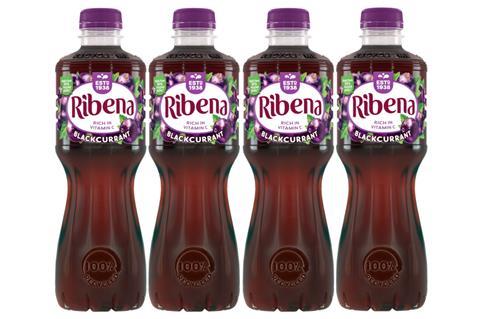 Suntory Beverage & Food GB&I has relaunched Ribena in new bottles designed to massively boost its recyclability.
The brand has rolled out new 100% rPET bottles whose plastic sleeves have been reduced by 50%.
This reduction means they can be more easily detected as clear plastic to be recycled by existing UK recycling infrastructure, upping their chances of returning to circulation faster.
"It's a huge piece of work that's required a large piece of investment and and shopper research, to ensure Ribena is fully sustainable," said Suntory Beverage & Food GB&I COO Carol Robert. "It's endlessly recyclable so the same bottle you pick up in a Sainsbury's should be converted into another bottle in an Asda in the next few weeks."
Ribena spent two years developing the new bottles, splashing out £1.6m on new manufacturing equipment to bring them to market.
It said the move would slash 202 tonnes of plastic from the supply chain every year.
There was "a bit of consumer confusion over whether plastic itself is an issue or plastic waste", said Robert. "Recycled plastic is lightweight, hygienic and probably has the best carbon footprint – the issue has been the waste.
Only 8% of current bottles consumed on the go were recycled, she said, "so the first thing we have to do is encourage [shoppers] to recycle to drive more of a circular economy… it's important industry and brands are helping them and making it easy for them to do that, which is what our packaging is laid out to do".
She added the business was working on similar revamps for Lucozade Energy and Sport with "investment in the factory and extensive research".