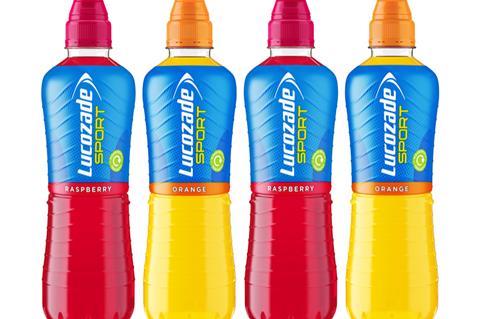 Suntory Beverage & Food has blamed an "extraordinary" surge in demand for Lucozade Sport for recent low availability of the drinks.
Suntory this week told The Grocer it was "limiting distribution" of all Sport drinks except Orange and Raspberry – its "most popular flavours" – following a surge in demand that it attributed to "the easing of restrictions" in the wake of the pandemic.
Consumers have taken to social media to complain about the scarcity of Lucozade Sport drinks over recent days, claiming they had spotted gaps on shelves in some supermarkets.
One shopper tweeted, she could not buy the Fruit Punch flavour of the drink "anywhere".
"Following the easing of restrictions we are experiencing extraordinary demand for Lucozade Sport," said Suntory GB&I head of grocery and e-commerce John Rumble.
"In response we are having to prioritise our most popular flavours, which are Lucozade Sport Orange and Lucozade Sport Raspberry."
"We will temporarily be limiting distribution of other flavours," Rumble added.
The Grocer has approached Asda, Sainsbury's and Tesco for comment.
It's not the first time shoppers have been left struggling to get hold of Lucozade drinks. The brand also fell victim to shortages last summer, when Suntory was grappling with the effects of the HGV driver crisis.
The news comes on the back of soaring sales for Lucozade Sport in 2021. Over the 52 weeks to 11 September, the brand grew by 12.1% to £124.5m – a £13.4m gain. In contrast, Lucozade Original sales were flat [NielsenIQ].
In December, Suntory unveiled reduced plastic sleeves for Lucozade Sport, which it claimed would save 101 tonnes of virgin plastic annually.