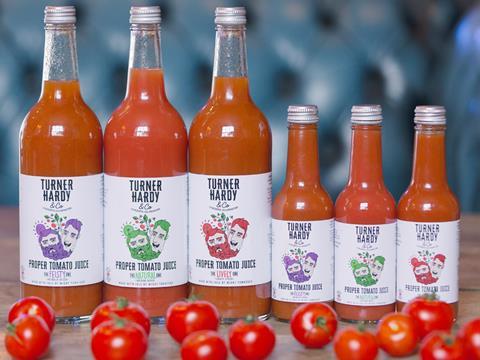 Posh tomato juice brand Turner Hardy & Co has set its sights on "doing for the Bloody Mary what Fever-Tree did for the gin and tonic" as it plans a major push into the multiple grocers.
Co-founder Ed Turner, previously MD of pub group Geronimo Inns, told The Grocer: "We are already in The Co-op, but we've got another meeting with them to extend that. We're looking at a trial in Sainsbury's in January and we've been in talks with Waitrose.
"Because we're now in [on-trade] places such as The Wolseley, Ottolenghi, Natural Kitchen and various pub companies, we've got those premium listings that mean we can go to the supermarkets."
Turner Hardy & Co is the brainchild of Turner and Hugo Hardman, founder of Chalk Stream Foods. It currently has three variants - Lively, Feisty and Pure - all made with fresh tomatoes from the Isle of Wight that are picked ripe and pasteurised.
"The USP is that these are the absolute best tomatoes you can get in this country and there is a strong story about provenance, locality and premium quality," said Turner. "They are healthy, low in salt, low in sugar and gluten free. And they have a two-year shelf life."
The brand was "in the very early days of what [Fever-Tree] did but on a very different scale," he added. "In the same way that they've had a gin revolution, we are trying to encourage the Bloody Mary revolution. People are so used to crap tomato juice from concentrate.
Premium option
"To be fair, [fellow tomato mixer brand] Big Tom has done really well and has good market share, but it is from concentrate. The market has needed a premium option.
"People want to trade up to something and ours is most definitely a craft product. I'd be bloody delighted if we could be the next Fever-Tree. One of the questions we're working on for retail is whether the brand should sit on the soft drinks shelf or next to spirits. I would prefer it to be near the spirits because that's a much easier sell."
Turner added the brand would potentially look at developing alcoholic canned RTDs, and is readying the launch of new gift packs in a tie-up with the Isle of Wight Distillery's Rock Sea Vodka brand.
But, Turner added: "It's not just about Bloody Marys. We're about to start some autumn promotions around mixing it with gin as a 'red snapper', as a Bloody Maria with tequila, or even with something like Seedlip for a Virgin Mary."
The business has enlisted numerous senior drinks industry figures to sit on its board, including Henry Chevallier Guild of Aspall Cyder and Nonsuch Shrubs, the founders of a major craft alcohol brand who did not wish to be named, and Richard Hollingberry, owner of cheese brand Godminster.