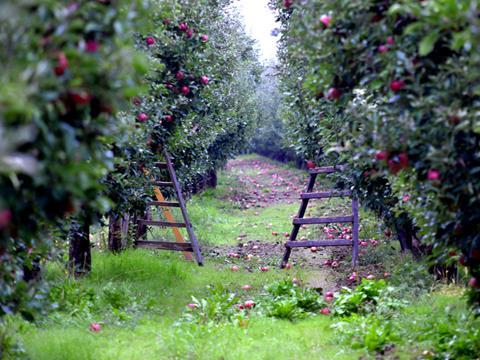 Westons is often asked to contribute to national print and broadcast media as a leading voice within the cider industry. But, as we celebrate another successful summer sales season, not all the approaches we have received recently have necessarily been around positive stories.
Radio 4's flagship consumer affairs programme You & Yours recently asked us to comment on a worrying trend affecting some UK cider apple growers within our industry, as it seems their wares are no longer deemed essential in some quarters of the UK cidermaking process.
For although the category continues to expand – driven largely by our success in attracting a new wave of consumers who are discovering quality cider in its many guises and formats – there is a concerning view emerging that the nation's newfound thirst for fruit ciders (apple ciders flavoured with the addition of other fruits) means there is no longer a requirement for the base apple cider at the heart of these drinks to be made from high-quality freshly pressed apple juice.
Instead, the argument goes, imported concentrate will do just as well.
We beg to differ – and not just because of the frequent price and exchange rate fluctuations that are bound to be inherent with an imported commodity both now and perhaps increasingly in the future.
As we launch the first Stowford Press fruit offering, Mixed Berries, into the off-trade, we are proud that all of the apples at the heart of our new drink have come from within a 50-mile radius of our Herefordshire mill. It is the same claim we make for our original Stowford Press apple cider, and not one we are planning to change any time soon.
Why does it matter? Well, for a start, it's certainly important to the 319 apple growers who we welcome to our mill every autumn to take delivery of their latest crop.
It's also important to consumers, which is why we have put our strong local sourcing credentials at the heart of our new multimillion-pound TV campaign for Stowford Press.
There's also a practical side to protecting our relationships with local growers. For a start, with long-term contracts in place, we are able to guarantee that we can source bittersweet apples with the right taste profile for our ciders from farmers on our doorstep, irrespective of whatever uncertainties a post-Brexit world may bring. It also means we can press the apples we buy when they're still at their peak – shortly after picking, and often on the same day they are harvested.
Compare that with potential delays on imports of perishable apples (bulk apples are not refrigerated or boxed to protect them) and it becomes, as they say, an even bigger no-brainer. Having long-term supply agreements with UK apple growers will continue to ensure the supply we need to meet our own ambition at Westons to produce 60 million litres of cider each year by 2022.
Our fruit ciders – including under our Rosie's Pig and Mortimer's Orchard brands – will make a huge contribution to helping us realise that ambition. Indeed, as we predict in our latest annual cider report, fruit ciders are set to account for almost half (48%) of all sales by 2023. That's why it will remain important to us to promise both our customers – and the people who enjoy our fruit ciders – that they have been made the right way.
Naturally, we're more than happy to drink to that.
Darryl Hinksman is head of business development at Westons Cider