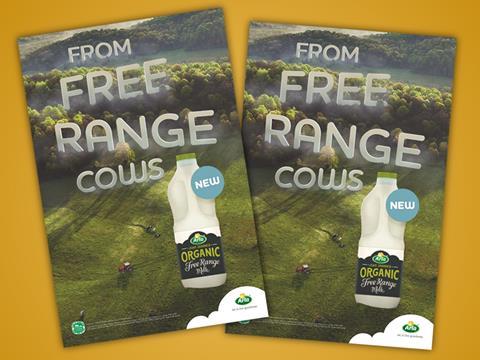 Arla Foods is hoping to cash in on the free-range milk boom with a major rebrand of its flagship organic milk.
The dairy co-op is repositioning its Organic Farm Milk - launched last November - as Arla Organic Free Range Milk, with new bottles featuring the free-range claim rolling out this month.
The move represents a u-turn for Arla, which had previously insisted it had no plans to launch a free-range milk line.

It claimed the decision to re-brand followed research that revealed many UK consumers did not yet realise all the benefits that organic milk could offer, particularly the fact it came from free-range cows. Cows producing the milk for Arla's organic milk are allowed outdoors for an average of 200 days per year, Arla said.

The rebranding will be supported by a £5m marketing campaign during the summer, including digital, in-store and PR activity. It coincides with increased distribution for the brand, which is now listed in Tesco, Asda, Sainsbury's and Morrisons.

The UK's first national free-range milk brand - Free Range Dairy Farmers - rolled out in Asda earlier this year.

At the time, Arla's UK boss Tomas Pietrangeli told The Grocer the dairy co-op had no plans to introduce its own free-range milk variant and would instead concentrate on its burgeoning organic offering. "We believe organic delivers the same needs [on grazing] plus more," he added.

However, the re-brand suggests Arla is now looking to cash in on the boom in free-range milk sales, with an Arla spokeswoman adding that the supplier was "responding to demand", while recent media activity around free-range dairy cows had created "a better understanding of this term in relation to dairy".
The rise in popularity of free-range milk has seen Asda increase listings of the Pasture Promise-accredited Free Range Dairy Farmers to more than 300 stores, while the likes of the Co-op, Booths, Midcounties Co-operative and Morrisons have all listed smaller, local, brands such as Our Cow Molly and Stephensons Dairy.
"We believe there is significant headroom to grow the organic milk category and make organic milk more accessible to our consumers," said Pietrangeli in a statement on 4 July. "Our new advertising campaign, emphasising the free-range claim, will help people to further understand the benefits of organic, encouraging them to trade up from standard fresh milk to organic".

However, the move raised eyebrows with Pasture Promise founder Neil Darwent, who warned "if everyone started to apply the words free-range to milk labels without any clear definition of what free-range means, they will become meaningless and the value will be lost".

Darwent added: "I struggle to see what has suddenly made Arla organic milk 'free-range'. What have they done to it? What have they asked the farmers to do differently? I believe that the only thing that has changed is the label.

"It would appear that organic is not carrying a clear a message to customers and there is now a need to strengthen this with the addition of the words free-range. So, it begs the question what's wrong with organic milk?"