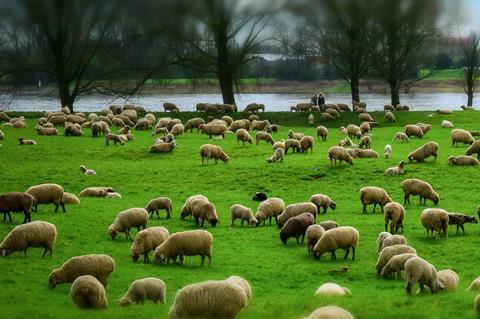 The UK is set to face shortening supplies of British meat in the coming months after last summer's heatwave severely reduced the UK's livestock population.
The number of pigs, sheep and cattle for both meat and dairy all fell in Defra's latest census. The findings led the AHDB to predict the smallest stocks of British lamb since 2010 by the time the production season gets underway in summer.
Lamb was the worst hit. Defra found numbers were down by 4% in its December survey compared with the previous census. However, that figure could drop further, by as much as 5% or the equivalent to 800,000 lambs when summer arrives, said AHDB red meat analyst Rebecca Oborne.
The decline was also set to make it difficult to meet demand for the three million lamb carcases the UK exports to the EU each year, she added.
Meanwhile, the UK's cattle population hit a third year of decline, leading analysts to blame the baking summer weather for a lack of feed for grazing dairy cows.
"Poor forage growing conditions during the year led to many producers culling marginal cows in the hope of conserving forage for more productive animals," said AHDB analyst Hannah Clarke. "Higher on-farm mortality of breeding stock will likely have affected the amount of replacements available."
The after-effects would continue to reverberate throughout 2019, she suggested, adding that both the beef and dairy herds would continue to fall this year, resulting in lower beef production.
The UK would also be forced to limit its pork output in the first half of the year, after the population took a 1% hit, said Bethan Wilkins, an AHDB analyst specialising in pork. However, figures remained above the levels experienced in 2016, so any tightening in supplies would be limited, she said.
"A blip in productivity levels, following the hot summer last year, might mean throughput is limited in the coming months," added Wilkins. "However, as these challenges phase out and if the usual improving trend resumes, production growth could return in the latter part of 2019."