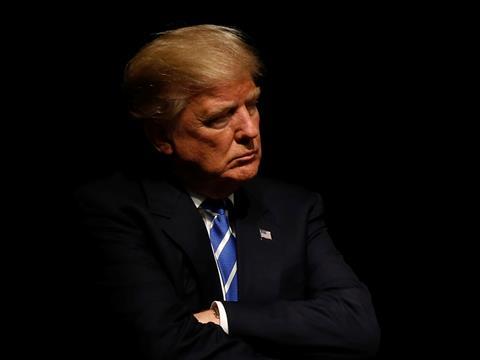 The G7 summit should have been an opportunity to talk the US president down. One week earlier, on 1 June, a belligerent Donald Trump had imposed wide-reaching new tariffs on steel and aluminium imports from Canada, Mexico and the EU on the dubious grounds of national security, slapping on levies of up to 25% in a move that could reportedly put five million tonnes of European steel and 30,000 British workers at risk.

Imposed in a flagrant breach of international trade agreements, the move caused outrage, the murmurings of a tit-for-tat trade war that could drag in far more than simply steel and aluminium rising in volume. And so in the days leading up to the annual gathering in Quebec, world leaders - including our own prime minister - had voiced hopes that collective pressure might de-escalate the growing crisis. But the plan failed. Spectacularly so.

First, in an unscheduled press conference hours before talks began, Trump accused the rest of the world of treating the US "like a piggy bank to be robbed" insisting he would "100%" stick by the tariffs.

Then after days of tense negotiations, the president jetted off early, tweeting from Air Force One that the US would not even stand by the tentatively reached communiqué that set out broad shared priorities.
It was a mess. Far from tempering frayed political nerves, the summit served only to escalate simmering tensions. So it came as little surprise when last week the EU brought into force its own arsenal of tariffs against US imports, hauling the likes of tobacco, peanut butter and orange juice firmly into the fray. So, how serious could these escalating measures be for UK food and drink? And how might 'the Donald' respond?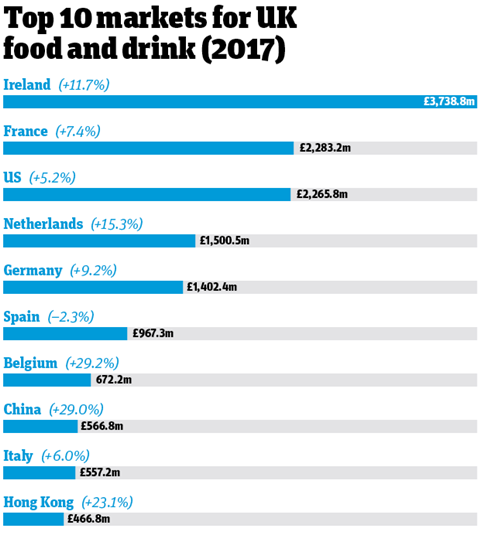 As early as March Brussels had published its proposed hitlist in retaliation against US tariffs, with products worth €2.8bn threatened with an additional 25% levy upon entering the EU. And as of 14 June, when that list received the backing of all EU member states, it was only a matter of time until it came good on that threat. It had no choice, said trade commissioner Cecilia Malmström, given the "unilateral and unjustiified decision of the US".

Alongside impacting Harley Davidsons and Levi's jeans that list includes cereals, maize, orange juice, cranberries, whiskey and cigars, all designed to hit Trump where it hurts. Politically speaking.

Kentucky is home to American bourbon, for instance, and is also the state of the Republican senate majority leader, while oranges are a major market in Florida, a key US swing state. "Making Trump feel some pain makes it easier to go into negotiations," observes Francois Sonneville, senior analyst at Rabobank.

On the one hand the impact on the UK - and its consumers - will be limited. Only 4% of UK food and drink is currently imported from the US and Canada, according to Defra, with the tariffs proposed likely to affect about £218m of food and drink imports, around 15% of the annual £1.4bn of US exports into the UK, estimates Mark Waterman, retail sector specialist at management consultancy Vendigital.

This doesn't take into account the 30% of UK food and drink imported via EU countries though, some ingredients for which will be from the US and thus vulnerable to tariffs at the EU border, such as the 15% of European juices arriving from the US, often passing through the Netherlands and Belgium, points out Sonneville.
The scale of any additional costs is best judged by looking at what stage in the supply chain a product would be when it reaches external EU borders, he adds. "For example, if you look at bourbon it's put in a bottle in Kentucky and then shipped to consumers in the EU crossing the border near to the end of the value chain" and therefore will see the full impact of the 25% tariff. Conversely "oranges from Florida are being shipped to Europe and then processed further into a product ready for consumption so are earlier in the value chain" with the 25% not levied against the full price.

Where costs are increased though, who's going to pay? "The crucial question is what substitutes are available," Sonneville says. "If you make orange juice then you have alternative sources. You might go to Brazil or Spain or Italy. So a 1% increase to the price of Florida oranges might be acceptable, but 8% perhaps not.

"So if that's the case, Florida suppliers will need to make a decision as to whether to sell at a lower price and margin, and take some of the pain themselves but remain the supplier, or whether they decide they can't compete." Either way it's unlikely UK or EU consumers will see any significant costs passed on, nor suppliers be forced to accept a hike in ingredient prices.
"Given Trump's history of unpredictable behaviour, we can't be certain about how things might develop"
For products such as bourbon, though, it's a different story. Without the same options of substitution, costs are more likely to be passed on and "the position of the seller becomes stronger" in regards to "passing some of the price rises on, either to the shops or consumers."

Still, the impact of proposed EU tariffs on the British shopping trolley will be limited. The far bigger concern for UK food and drink suppliers must surely be how Trump might respond.

Undoubtedly "given Trump's history of unpredictable behaviour, we can't be certain about how things might develop," says Waterman.

After all "if you have an entrepreneur running the world, anything can happen", muses Nicholas Saphir, executive chairman of organic milk co-operative OMSCo. Already the president has warned the States would win any trade war "1,000 times" over and following last week's move pledged to target the EU's enormously valuable automobile industry (responsible for 6.5% of the bloc's GDP).

Were food and drink to feature on his hitlist, the impact could be serious for UK producers. Outside the EU, the US is the UK's biggest market for food and drink exports with more than £2bn shipped across the Atlantic in 2017.

"If it gets to that point it's more serious," accepts PTF director general Andrew Kuyk. "But I've not yet got people ringing me saying 'help, are we going to lose our export trade?' so we're a little way off that."
How vulnerable are the UK's biggest food and drink exports?
Scotch whisky
US exports: £945.4m
Change: +8.2%
Scotch whisky accounts for 70% of the UK's spirits exports to the US, with volumes around nine times higher than the volumes of US whiskey imported here. That leaves the UK far more vulnerable to tit-for-tat tariffs on the product, with the impact of a trade war potentially devastating, say UK distillers. The sector has already voiced concerns at whisky being included on the EU's retaliatory hitlist, creating a higher likelihood that President Trump may respond in kind with any further tariffs.
Salmon
US exports: £208.6m
Change: +23.3%
The US is one of the key markets for UK exports of salmon. Destinations are diversified though, points out Robbie Landsburgh, of the Scottish Salmon Producers Organisation, with 55 markets for Scottish salmon. Therefore there is the opportunity to "substitute markets to a certain degree" were tariffs on salmon to come into force, he says. "Having said that, there are no indications whatsoever, as yet, that our sector is specifically at risk from the imposition of new or increased tariffs by the US," he adds.
Chocolate
Total exports: £18.3m
Change: -19.7%
Chocolate has become one of the UK's biggest exporting success stories in recent years, up 84% since 2010, with biggest customers Ireland, the Netherlands and Germany and non-EU markets accounting for only 27.1% of total sales. Not only that but US sweet giant Hershey's, which owns the Cadbury licence in the US, won a court case in 2015 that prevented importers of British versions from doing so. All of which makes the sector far less reliant on the whim of President Trump than others.
Cheese
Total exports: £47.8m
Change: -13.6%
Though total volumes of British cheese shipped to the US remain small in comparison to those from other EU countries, with only around 6,000 tonnes (worth around £30m) shipped there each year, it has become an area of growth for some specialist producers in the US. The amount of British mozzarella sold to the US jumped 43% last year for instance, according to HMRC data. "Would the dairy industry all fall under a bus if it went horribly wrong? No we wouldn't," says Nicholas Saphir of OMSCo. But "it would hurt certain firms."
Beer
Total exports: £139.1m
Change: -5.3%
By value the UK exports more British beer to the US than any other country, according to the British Beer and Pub Association (BBPA). In fact, in 2017 beer worth just under £140m was shipped there, more than twice as much as any other single country - making the US an 'extremely significant' market and instrumental in the BBPA's plan to grow exports by £100m in the next five years. Any new tariffs could therefore have a serious impact on the sector.
Tit for tat
Were Trump to take that next step, though, targets could include iconic European products, in direct response to the inclusion of US bourbon, Harley Davidsons and Levi's on the EU's own list. French champagne and Italian parma ham could be vulnerable, says Kuyk. As could scotch whisky, believe experts, which accounts for 70% of the UK's spirits exports to the US and a fifth of its total exports - a development that could be "devastating", suppliers have warned.

Equally Trump may look to appeal to core Republican voters in the farming community by including categories such as dairy, a sector he has already mentioned in a series of enraged tweets around trade. "Would that be a disaster for UK dairy?" says Saphir. "No it wouldn't, but it would hurt certain firms." UK exports to the US of, say, cheese, pale in comparison to volumes from France and Germany, he points out, with only around 7,000 tonnes heading to US buyers in 2017, but "we have carved out a pretty innovative and interesting position matching American standards so it would be a great shame to lose that."

For Scottish salmon too, the US is a key export market with a little under 30,000 tonnes shipped over in 2017, according to HMRC data, and "were tariffs to be applied to our products at any time by any country which had the effect of dampening consumer demand in export markets, this could have a negative impact," says Robbie Landsburgh, of the Scottish Salmon Producers Organisation. He is quick to add "this is purely speculative as there have been no indications that new or increased ad valorem tariffs are to be imposed on Scottish salmon by the US or other countries".

The impact might not all be negative though, suggests Saphir. "We could find unintended consequences that actually make trade easier." One example is dairy exports to the US, where different tariffs apply to those with or without licenses under TRQ (tariff rate quotas). Cheddar exported with a licence attracts a 12.7% tariff, for instance, while without one it becomes $1.227 per kilo - a system that should see licence holders benefit. However were new WTO tariffs to apply, sending the cost of cheddar "through the roof, then the non-licensed volume is actually better value".

In other words, "not only is there raging uncertainty about where all this is going and how you interpret it but you have to put into context the fact there isn't uncomplicated trade going on now."

And all this against the backdrop of Brexit of course, with Theresa May forced to align herself with the EU on its retaliatory measures while simultaneously planning for a future trade deal with the US. "Politically she's in a real dilemma as if she does special pleading on behalf of America with the EU she'll be seen as a Trojan horse," says Kuyk.
"It does make rather a nonsense of us thinking we have a role to play outside America in the new world order," adds Saphir. "We can see that if Trump carries on like this, doing business with the States will become totally uncertain and totally volatile and our future will depend much more on doing business with Europe."

As a result "if you're a business that isn't yet exporting to the States but looking for opportunities I'd be exercising a huge degree of caution," says Sian Edmunds, partner at Burges Salmon. "I'd be dipping a toe into the water perhaps, but be alive to the fact that with the level of volatility there it's worth exploring other markets before throwing yourself into the US market."

Or bide your time, perhaps, until 'the Donald' is a distant memory.