Jude's has announced it is officially carbon negative. Now how will it meet its target of a 43% reduction in carbon intensity by 2030?
British ice cream brand Jude's has announced it is officially carbon negative – removing 10% more carbon dioxide from the atmosphere than it is emitting.
The B Corp-certified company, which claims to be the UK's first carbon negative ice cream brand, has also committed to a 43% reduction in carbon intensity by 2030.
"In recent years, Jude's has become increasingly aware of its impact on the environment, and although unchartered territory for an ice cream company," says MD Chow Mezger, "Jude's want to lead the way in demonstrating that ice cream businesses can play a key role in the fight against climate change."
So how has Jude's achieved carbon negative status? And how will it meet that 2030 target?
In order to reduce emissions, Jude's first had to measure and understand its carbon footprint. It did so by "working extensively" with Professor Mike Berners-Lee – a world expert in carbon footprinting – and his team at Small World Consulting.
Small World's analysis showed Jude's releases 6,200 tonnes of greenhouse gas emissions every year. That includes direct emissions from Jude's operations, but also indirect emissions from the production of the energy Jude's uses and from its supply chain – such as emissions from the farms producing its ingredients, as well as those elated to transport, packaging and refrigeration.
"The climate and ecological emergency has implications for every aspect of an ice cream business," says Berners-Lee. "For an ice cream producer, the big questions include what ingredients to use and how they should be produced, how to cut carbon from every part of the operation, and what else can be done to look after our world."
Carbon reduction
Once it understood exactly where its carbon emissions were coming from, Jude's was able to develop a carbon roadmap with actions to target emissions across its supply chain and operations.
It has already switched to renewable energy at its Hampshire kitchen and is working with Carbon Architecture to review opportunities for energy recovery within its operations.
Elsewhere, Jude's has committed to developing more plant-based products, which will be at least 50% of the its range by 2025, as well as using more environmentally friendly packaging and reformulating existing products.
The family-run brand is also engaging with suppliers to "in a bid to create a wholly environmentally conscious supply chain" to produce its products.
Matterley Farm, milk supplier for Jude's Tywford dairy, is already part of the Winchester Downs farm cluster – which is working together to achieve benefits for landscape, habitat and biodiversity. The farm is currently undergoing its own carbon audit and developing a carbon management plan that will be implemented in 2021.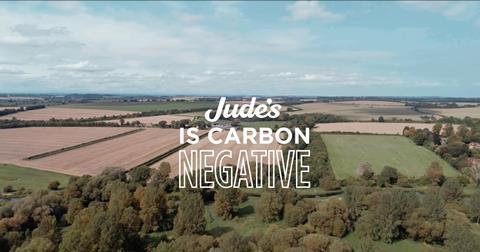 Carbon removal
Removing carbon from its supply chain and operations will take time. So Jude's is also investing in environment and sustainability projects, as well as carbon storage, to remove 10% more carbon from the atmosphere than its remaining footprint.
This includes supporting the development of Yarra Yarra Biodiversity Corridor in south west Australia through the purchase of its carbon credits. This quarter alone, Jude's has purchased 4,000 tonnes of carbon credits (CER and PER).
In the UK, Jude's has partnered with conservation charities Woodland Trust and Trees for Life. In addition to its carbon removal plan, Jude's is sponsoring Trees for Life to "promote diversity of wildlife through rewilding the Caledonian Forest: a rich habitat found only in the Scottish Highlands," it says.
Since beginning its sponsorship, Jude's has planted 1,000 trees, and encourages donations of trees to its grove, in a bid to create more homes for wildlife and forests of the future.
Mezger admits Jude's target to slash carbon emissions by 43% by 2030 is "ambitious" and will essentially involve "changing every area of the business."
However, the brand is determined to deliver on its promise, and hopes its ambitions "will inspire fellow industry members to take action and join us in challenging themselves, their businesses, their supply chains and their customers to leave this beautiful planet in the best possible shape for generations to come".

Carina Perkins is editor of thegrocer.co.uk

Carina is responsible for running and developing The Grocer's digital operations. She commissions high-quality digital journalism from our award-winning editorial team and thought-provoking comment from industry players.

Follow Carina on Twitter: @CarinaPerkins