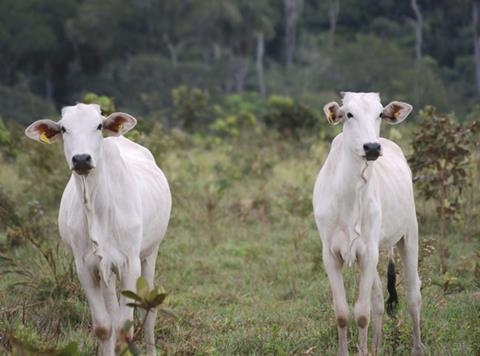 JBS, the world's second-largest food company, has committed to reach net zero greenhouse gas emissions by 2040.
The Brazilian meat giant also pledged to eliminate all deforestation from its global supply chain by 2035. It will first look to eliminate all illegal Amazon deforestation by 2025, and in other Brazilian biomes by 2030.
The meat processor will invest more than $1bn over the next decade to help reach its targets, focusing on emission reduction projects such as carbon sequestration and on-farm emission mitigation technologies.
The targets will span across its global operations and supply chains in South America, North America, Europe, the UK, Australia and New Zealand.
"Climate change is the great challenge of our time and we must act urgently to combat the negative effects of global warming," said JBS CEO Gilberto Tomazoni.
"As one of the most diversified global food companies, we have an opportunity to leverage our scale and influence to help lead a sustainable transformation of agricultural markets that empowers producers, suppliers, customers and consumers."
JBS has so far reduced its emissions intensity by almost 20% since 2015.
But some campaigners were unsatisfied with the timelines. Greenpeace UK forest campaigner Paul Morozzo said JBS's commitment "shows a company planning no let-up in its huge and active contribution to the Amazonian death spiral" and urged UK supermarkets to review its relationship with the processor immediately.
Writing in The Grocer this week, Tesco CEO Ken Murphy said the supermarket had a "responsibility to help our suppliers to mobilise to reduce their emissions".
Tesco is therefore helping agricultural producers to scale new technologies such low-carbon fertiliser, methane-reducing feed, and alternative feeds such as insect protein, to target the biggest emission sources in the supply chain. Tesco aims to reach net-zero by 2035.