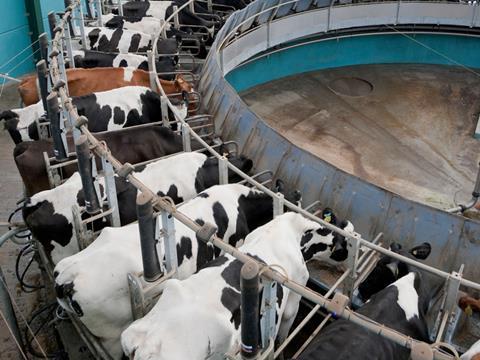 Dairy processors and the NFU are at odds over government proposals to regulate milk supply contracts, with Dairy UK warning they would have a "detrimental impact" on the long-term health of the sector.
Defra is expected to launch a consultation into the introduction of compulsory contracts between milk suppliers and buyers in the new year, as part of its plans to create new rules on "fair dealing with agricultural producers" under its agriculture bill.
Replacing the sector's current voluntary contract code, "which had not worked", with regulated contracts would improve transparency in the sector, farming minister George Eustice told the Commons Efra Committee last month. The move has also been met with widespread support among the UK's main farming unions.
But in a press briefing published by Dairy UK on Friday, the industry body pointedly warned there was "an urgent need" to ensure "differing viewpoints from the farming community were heard by government".
Any regulation had the potential to "reduce flexibility in contracts between farmers and processors in a way that will be detrimental to both", it claimed.
Regardless of the fact Brexit was now less than five months away, any regulation launched before the end of the proposed Brexit transition period in 2020 would come under the EU's Common Market Organisation regulation, which requires contracts to be based on a fixed price or a formula, Dairy UK said. This would herald the end of ad-hoc pricing initiatives often used to address short-term market circumstances.
It would also create a "less competitive market with more restrictions", push down average prices to farmers, give less of an incentive to improve efficiency and meant milk purchasers would be less able to respond to sudden market developments, it added.
"Regulation would create a risk of greater volatility in the market, something which farmers and processors definitely do not want to see," said Dairy UK chairman Paul Vernon.
"Far from creating less risk, regulation would create more and result in a less competitive industry at a time of great instability in this country," he added.
But in a joint statement in response, the NFU, NFU Cymru, NFU Scotland and the Ulster Farmers' Union reiterated their support for regulated contract terms and bemoaned how the sector had "shouldered too much of the risk" in the dairy market.
"In many cases farmers have been subject to unfair contract terms and trading practices," they added. "As outlined in the GCA review published in February, there is clearly an imbalance of power within the dairy supply chain."
They added: "As we leave the EU, the UK dairy market needs to be fit for purpose; commercially focused, innovative and competitive. It is vital that we have a properly operating dairy market where risk is shared across the supply chain.
"Dairy farmers need to be in a strong position to develop professional and sustainable relationships with their buyers, while operating to fair trading terms."