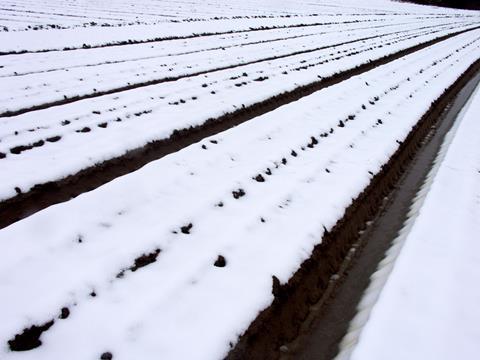 Growers are "counting the cost" of the Beast from the East, with potatoes and asparagus among the worst affected crops by last week's freezing temperatures and snow.
Planting of polytunnel-grown asparagus and potatoes were put on hold due to the bad weather. At the same time, damage to polytunnels caused by the weight of snow had stacked up costs for growers, who were now scrambling to make repairs and minimise the impact on crops, said the British Growers Association.
The weather could delay the asparagus season in some areas by about two weeks, it added. However, the main outdoor-grown crop was unlikely to feel significant impact from the cold snap as it came well ahead of the beginning of the season, which is due to start on 23 April, suggested the Asparagus Growers Association.
While growers were unlikely to be able to reproduce the early harvests seen in 2016, the UK asparagus crop was now benefiting from a sustained period of mild and cloudy weather, the trade body added.
It comes as the Jersey Royal Company had to deny claims in the national media that its workers had deserted due to the harsh wintry conditions in recent weeks, as it pointed out its main concerns centred around the fact potato growth had slowed.

"We've had more problems with the fact the crop hasn't really grown so we could do with the weather turning pretty soon to help an early start to packing," said Tracey Mattock, marketing manager for parent company Greenvale.

Elsewhere, suppliers could be forced to contend with damage to stored potatoes due to the sub-zero temperatures, the AHDB suggested, with lows of -11°C recorded last week in England.

Root vegetables were able to withstand the worst of the weather. Harvesting of carrots and parsnips continued through the storms, with straw cover maintaining crop quality, the BGA added. But it warned it was too early to be sure of the effects on young crops in their establishment phase. However, the mild turn in the weather this week had raised hopes that summer crops would feel a negligible impact, it said.

"Growers have been treating the past couple of weeks as business as usual, albeit in extremely tough conditions. Carrots and end-of-season brassicas are largely harvested mechanically so with tractors and trailers, growers have been able to get into the fields," said BGA CEO Jack Ward.

"Production in the UK is all about managing weather issues. Now wetness is the challenge, as in Peterborough the River Nene is in full flow and beginning to flood, so as a grower you have to be resilient enough to cope with these rapid changes in circumstance."