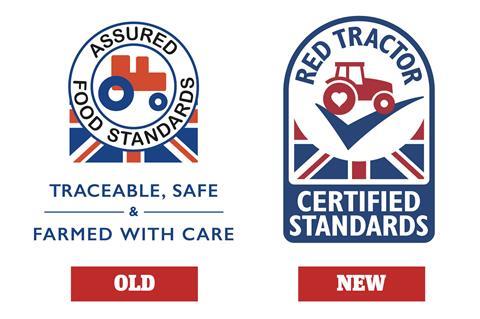 The Red Tractor assurance scheme has launched a new-look logo to mark its 20th anniversary.
It said its new visual identity addressed a number of challenges facing the British food and farming industry, while clearly differentiating to consumers food that had been "carefully produced to world-leading standards".
The new logo retains the union flag to signify that the product has been grown, reared, processed and packed in the UK.
It has also replaced the term 'Assured Food Standards' with the name 'Red Tractor' and updated the tractor to modernise its appearance and bring it in line with the scheme's TV ad.
Red Tractor has also introduced a 'tick', which is "recognised by shoppers as indicating that the product has been checked", it said, while the logo carries the words 'Certified Standards' and a heart to "demonstrate the care and attention that is taken to produce the food".
The revamp follows work by the scheme to improve its status and emotional engagement with consumers.
This included research that found Red Tractor had a much higher level of awareness than all other food assurance marques. Eight out of 10 shoppers are aware of the logo and see it as a positive, reassuring on-pack signpost in supermarkets.
"While it's great news that almost 80% of British shoppers recognise Red Tractor and see it positively, our research also found that people were uncertain of what sits behind the logo or its benefits," said CEO Jim Moseley.
"Given the great care and attention Red Tractor and our farmers put into ensuring that the food we eat is safe and fully traceable, we owe it to our members that we improve shoppers' and diners' understanding of the scheme."
It comes amid greater scrutiny of the scheme in recent years following a spate of alleged animal welfare breaches at Red Tractor assured farms. This led the scheme to launch a suite of toughened new standards last year.
"Created 20 years ago to rebuild trust in British agriculture after a spate of food scares, the logo was designed to be very utilitarian," said Moseley.
"Two decades on, we are facing a new watershed moment, with the market facing huge uncertainty with the ongoing trade negotiations. At this time it is critical we help shoppers clearly differentiate which food has been produced and checked to world-leading standards from farm to pack – and the simplest way to do this is to look for the Red Tractor and the tick."
The rollout of the new logo is expected to take 18 months as many of the UK's popular brands update their packaging. It will be supported by a new 12-month £2m 'Tractor Test' campaign, designed to increase shopper understanding of the scheme.
The campaign will kick off with the return of 2018 and 2019's Red Tractor TV ad running on prime-time TV, digital channels and on-demand over Easter.