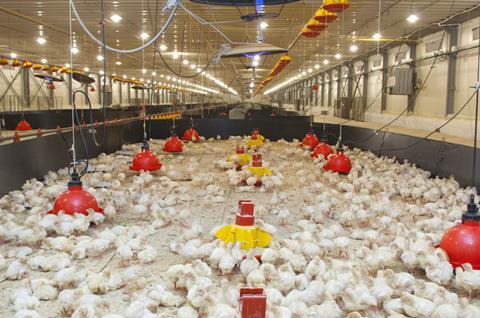 Supermarkets must drop the "slick PR" and clarify their position on selling lower-standard foods following potential post-Brexit trade deals, campaigners have urged.
Private letters from supermarkets executives, seen by The Grocer, have failed to clarify their position.
Charities and farming groups are frustrated that most supermarkets have not gone beyond fresh food, such as meat and eggs, as part of their existing commitments.
Campaigners fear the approach is leaving the door open for foods such as chlorinated chicken and hormone-treated beef to be sold in manufactured goods and petfood.
Aldi and Waitrose are so far the only retailers to publicly extend the commitment beyond fresh foods. Aldi pledged it would never sell any product containing chlorinated chicken and hormone-treated beef, while Waitrose said it would not lower its own existing standards on "any Waitrose product".
"We've got Waitrose at one end and Aldi at the other. If you can get both ends of the market, what about the middle?" said one senior farming source.
A coalition of academics and civil society groups including Compassion in World Farming and Tim Lang, professor of food policy at City University of London, have privately written to supermarket executives for further clarification on their commitments.
Lang said he wants their pledges to go "much wider" and include all own label, private label, and manufactured foods.
Judith Batchelar, director of Sainsbury's brand, told the group in a private letter that its suppliers were "expected to meet our Brand Standards, which are often higher than the standards set out in legislation".
Meanwhile, Sarah Bradbury, Tesco group quality director, wrote "where we source from the EU and elsewhere, we stipulate these products must be produced to the same high standards we use in the UK".
Jo Whitfield, Co-op CEO, said "We have a clear policy to only source 100% British own-brand meat and to that end, we would not put products such as chlorinated chicken or homone-pumped beef on our shelves."
Supermarkets are "not going to be able to duck and dive on this", said Lang.
"[They] have got to do more than bland reassurances. They must realise this isn't something slick PR can sort out."
But some doubt whether the commitments could be enforced beyond fresh and own-brand products.
"Let's say chlorinated chicken is allowed into the UK. That means the chicken's broth is also allowed into the UK," said Emily Rees, a fellow at the European Centre for International Political Economy think-tank.
"How do you verify that your suppliers making the chicken broth - which is say maybe 2% of a soup - how are you going to check with every single supplier that every single ingredient that they've used in their processing complies with your big statement?"
Pru Elliott, head of campaigns at The Humane League, a US-based animal rights group, has called for supermarkets to "first look a little closer to home" by examining chicken welfare in their current supply chains.
"While we absolutely need to protect our animal welfare standards and not undermine them by allowing even lower-welfare imports, we also need to be realistic. Animal welfare standards in the UK, for chickens in particular, desperately need improving."